TTM Healthcare and the South Eastern Trust welcomes you...
Here's Everything You Need to Know About Working and Living in the Region. TTM Healthcare welcomes you to the NHS South Eastern Health and Social Care Trust (SETRUST) in Northern Ireland - and to exciting times ahead.
We'd like to make sure you have all the support you need to make settling into your new home as easy, convenient and enjoyable as possible. To help, we've put together some information, advice and useful links on life in the South-East Region of Northern Ireland - and which you'll find valuable as a newcomer. From public transport to healthcare and everything in between – it will help you manage your early days here with ease.
Remember – we're just a click away. If we can help you with any other queries or more specific information, please email internationalteam@ttmhealthcare.com.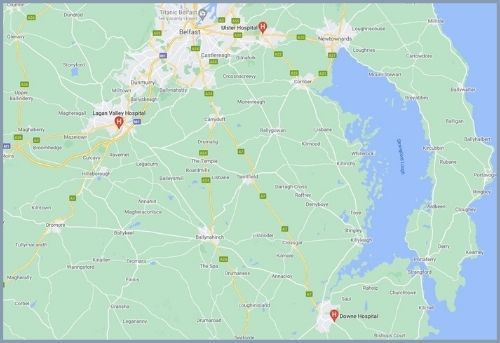 About the South Eastern Trust (SETRUST)
One of 5 NHS Trusts in Northern Ireland, The South Eastern Health & Social Care Trust was established in 2007. It comprises the districts of North Down, Newtownards, Down and Lisburn – incorporating many acute hospital services as well as community health and social services. The main sites within the Region are:
Ulster Hospital, Upper Newtownards Road, Dundonald – the Region's primary acute hospital.

Lagan Valley Hospital, Lisburn.

Downe Hospital, Downpatrick.

​
Currency and How to Open a Bank Account
The local currency in Northern Ireland is pound sterling (£/GBP). Local shops will not accept Euro. Northern Ireland is the cheapest part of the UK to live in with the lowest cost of housing. To give you an example of how much a pound will buy you, a cup of coffee will cost you approximately £2.50 and a meal in an inexpensive restaurant will range from £10 – £15 per person. You can expect a typical weekly grocery shop for 1 person to cost around £50 - £60 per week. You can find more on the cost of living in Northern Ireland by clicking HERE.
To ensure you are paid your salary efficiently you will need to open a UK bank account. The Trust will help you do this by arranging an appointment at one of the local banks, and you will be sent details of this. You will then need to visit the bank to activate your account as soon as possible and verify your identity. Be sure to take the following with you:
Passport as proof of ID

A letter from SETRUST confirming your employment and initial address.

​
The main banks in Northern Ireland include Bank of Ireland, Danske Bank, AIB, Halifax and Santander amongst others. Cash machines are available throughout the Region, but not all are free to use – some charge fees. For your own security, be sure to hide your pin number when keying this into the cash point machine.
How To Get Medical Care
You will need to register with a doctor – known as a GP – as soon as possible, especially if you are taking medication that needs a prescription. Your GP will be able to treat most illnesses but may refer you to a hospital if you require tests or if your medical condition is more serious.
You will not need to pay to see a doctor as this is covered by the National Insurance contributions you make which will be deducted from your salary.
You will need to visit the nearest GP and ask to join as a patient. Be sure to have these documents with you:
Your passport/VISA

Your BRP Card

Your Tenancy Agreement (the signed copy of your tenancy agreement for Trust accommodation or private rental accommodation)

A Bank Statement OR utility bill (letter from your copy showing your current address) OR a letter from SETRUST confirming your employment and address.

​
It can take 2-3 weeks to register you as a new patient so please apply at the GP during your first week in the country. As soon as you are registered, you'll receive a medical card with a Health and Social Care Number (HCN) – which you will need to show when you visit any medical facility. Most GP practices are open Monday – Friday and hours will vary between 08:30 am and 5:30pm.
If you work In the Ulster Hospital, your nearest GP practice is:
Dundonald Medical Centre
Cherryvalley Group Practice
Arches Wellbeing and Treatment Centre
If you work in Lagan Valley Hospital, your nearest GP Practice can be found in:
Lisburn Health Centre
Address: 25 Linenhall Street, Lisburn BT28 1LU

Phone: 028 9266 5181

​
Dr's Ryan, McGuinness, McAfee & Donaghy
Dr McFarland & Partners
If you work in the Downe Hospital, your nearest GP practice is:
Struell Surgery - Dr. Small & Partner
Address: First Floor, Downe Hospital, 2 Struell Wells Road, Downpatrick, BT30 6RL

Phone: 028 44613016
Dr McGoldrick & Dr O'Connor
Address: 11 Struell Wells Road, Downpatrick, BT30 6RL

Phone: 028 44612962
New Downe Health Centre
Address: 2 Struell Wells Road, Downpatrick, BT30 6RL

Phone: 028 44612962

​
If you are involved in an accident or become ill and need emergency medical assistance please visit your nearest emergency department or dial 999 for an ambulance.
How to Register with a Dentist
As well as a GP, you should also register with a dental practitioner or dentist. You can choose from:
An HSC Dentist – you and your family will be treated for a fee set by the Department of Health, which subsidises this treatment. Treatments available from your Health Service dentist include:

A Private Dentist - you and your family will be treated for a fee which is NOT regulated by the Department of Health and is not subsidised. A private dentist may also provide specialist treatments and cosmetic dentistry that is not available under the Health Service.

​
To find out details of an HSC Dentist with whom you can register, visit: www.hscbusiness.hscni.net/services/2070
How to Rent Property in the Area
As a new member of the SETRUST team you will be staying in Trust accommodation in the centre of Belfast for 8 weeks. This will give you time to look for a rental property. As you will need to move out of your Trust accommodation at the end of the 8-week period, you should start looking for rental property during your first week in the country.
Property prices in Northern Ireland are well below those in other areas of the UK and in the Republic of Ireland. In the South-East Region of Northern Ireland you can rent a 3-bedroom house from approximately £450 to £550 a month. To look for rental property in your area contact one of the local estate agents. You can also visit www.propertypal.com and www.propertynews.com. You should also look out for adverts in shop windows or on notice boards and 'to let' boards outside properties. Ask friends and colleagues too – they may well know of accommodation available.
Important to Know before you rent:
Be clear on the kind of place and space you need - the size, type and location.

Think about your budget and what you can afford.

Be sure to choose a place that is convenient with regards to getting to work, schools, shops and public transport. Think about how close you are to friends, family, medical care, availability of secure parking and your social life.

All private landlords must register immediately prior to the letting of a new tenancy.

Landlords normally ask for a deposit equivalent to 1-2 months' rent up-front to secure a property. PLEASE CONSIDER THIS WHEN APPLYING FOR A SALARY ADVANCE

You will also have to pay 1 month's rent in advance.

You may be required to provide references or name a guarantor. A guarantor can be a family member or friend who will offer a commitment to pay the landlord your rent if you are unable to do so. A guarantor cannot be your employer or a work colleague unless they are a friend or a family member and acting on your behalf in that way. If you do not know anyone who can act as a guarantor, the letting agency will accept your application if you can provide a double security deposit + 1 month's rent in advance (equal usually to 3 months' rent in advance).

​
You will need to give your Letting Agent the following details:
Job title: staff nurse

Annual Salary: £24,907

Employer: South Eastern Health & Social Care Trust (Name of hospital)

Permanent contract

​
Tell the letting agent that you will be living in the country for the same amount of time given on your CoS and VISA. This will give the landlord peace of mind that you will be staying in the property for the term of the lease.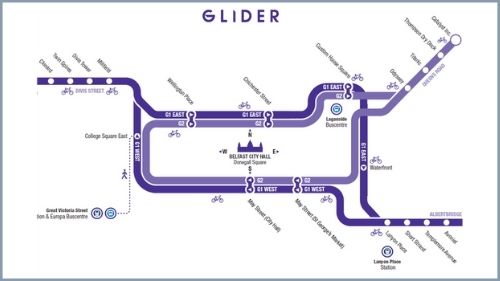 How To Take Public Transport
As an HSC staff member able to show your Staff Pass, you can use public transport FOR FREE! Getting around in Northern Ireland is so easy! The country has an excellent bus and rail service operated by Translink. Running countrywide, the service includes Ulsterbus, Goldline (connecting NI's major destinations and Dublin), Belfast's Metro Bus and Glider services and NI Railways.
The cost of any journey will be determined by the length of the journey. When using bus or train, if you are planning a return journey it is cheaper to buy a return ticket at the start of your journey. To get timetable details, travel costs and general information about using public transport, visit www.translink.co.uk or www.inyourpocket.com/belfast/getting-around/Northern-Ireland-Public-Transport
How to Get a Local Taxi
Taxis are also an economical option for short journeys. Taxis charge meter-reading fares. If a taxi doesn't have a meter, be sure to ask the fare to your destination before setting off. Taxi ranks are also available within the city or at some points of entry and are London-type black cabs.
Some taxi companies in your area include:
Dundonald
(list)
Lisburn
(list)
Downpatrick
(list)
How to Find Children's Day Care
Child minding is the largest form of registered day care for children aged 0 – 12 years. Registered child minders are self-employed day care providers who work in their own home to provide care and learning opportunities for other people's children within a family setting. Child minders by law must be registered with the local Health and Social Care Trust.
To get help with choosing a child minder you should contact The Child Minding Association (NICMA) – an organisation that supports child minders, parents and children. They will give you details of child-minding services that have vacancies.
The Child Minding Association (NICMA)
You can also place your child at a day nursery, playgroup or crèche. Day nurseries are usually privately run and provide day care for children aged between 6 weeks and 5 years old. Many also run after school clubs for primary school-going children aged 4 to 11 years. To find out more visit www.nidirect.gov.uk/information-and-services/childcare/types-childcare
​How to Enrol Children for School
Northern Ireland offers an excellent education system and schooling is usually FREE of charge. It is compulsory for all children in Northern Ireland aged between 4 and 16 years old to attend school. All Northern Ireland schools follow the Northern Ireland Curriculum - based on the National Curriculum used in England and Wales. Children work towards General Certificates of Secondary Education (GCSE's) by age 16. To make sure you secure a place for your youngsters, you should start planning as soon as possible.
Pre-School
Pre-school education is available for children aged 3 – 4. Some of this is free and some will be at a charge. Pre-school education is normally provided in nursery schools, but depending on your child's birthday, some is provided in primary schools as a 'reception class'.
Primary School
All children who are 4 years old on or before the 2nd July must begin their primary education from the beginning of the school year following their 4th birthday.
Primary School Education is divided into three key stages:
Foundation stage: year 1 and 2

Key stage 1: years 3 and 4

Key stage 2: years 5, 6 and 7
Post-Primary Education
Children normally progress to post-primary education at age 11. As a parent, you have the right to say which post-primary school you would like your child to attend. However, as each school has a maximum number of places, it is not always possible for each child to be placed in the school of choice. Post-primary education starts in year 8 and covers Key stage 3 and 4 (11 – 16 years)
University and College
After school, youngsters can choose to go to university or college – which are normally fee-paying. You can get information for all levels of Pre-school, Primary and Secondary Education – together with application forms – on the Education Authority website www.eani.org.uk. You can also contact the Education for the South-East Region at:
Where to Shop for Food
There is a great choice of food in Northern Ireland and no shortage of places to shop. It is usually cheaper to shop in the larger supermarkets. Here are some grocery stores in your area:
There are also many Halal restaurants and markets in the area, and you can find out more details at: www.zabihah.com/reg/rJosGZGVqQ
Where to Find Places of Worship
As a multi-cultural area, you will find a convenient spiritual home or place of worship in your area:
If you are Roman Catholic
If you are Protestant
If you are Christian
If you are Muslim
If you are Hindu
Keep in touch with TTM Healthcare's International Division
Remember – we're just a click away. If we can help you with any other queries or more specific information, please email internationalteam@ttmhealthcare.com.