Manage your work life with ease with –

ROTA
With our candidate app ROTA, you can manage your TTM working life on your mobile. It saves you time, makes managing your timesheets easy and gives you all the information you need at your fingertips.
The benefits of using ROTA:
Our user-friendly ROTA app enhances your experience as a TTM candidate. It's here to put you in control and help you manage your working life with ease.
Apply for and accept shifts quickly and easily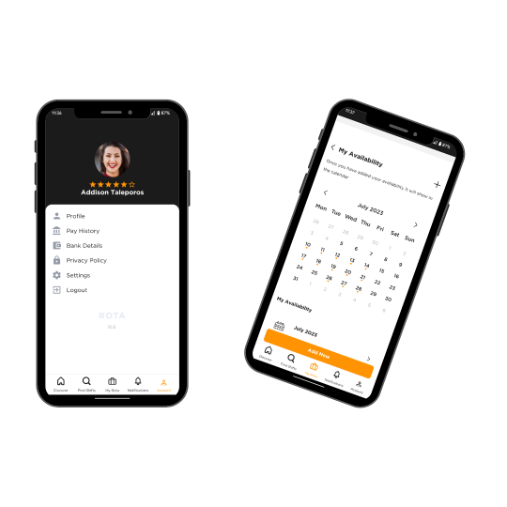 ROTA notifies you of the shifts that match your preferred locations and times. Apply for Shifts, once assigned accept shifts with a few clicks and they're automatically added to your schedule.
Submit your availability up to six weeks in advance
You can submit your availability up to six weeks in advance. It makes it easier to coordinate your work and personal commitments, improving your work-life balance.
Decline shifts that don't suit your availability
You may decline shifts that don't suit your schedule with a few clicks, allowing you to have full control of your schedule.
Explore other shift opportunities
You can see all the available shifts that match your skills and interests. Apply for the ones that fit your schedule and get instant confirmation.
Stay up-to-date at all times
Shift invitations, notifications and messages are all in the app, keeping you connected and up-to-date at all times. See everything you need to know all in one place. All of the essential information you need [Location, times, uniform requirements etc] are in the app, so you can access details anytime anywhere.
Sort out direct bookings instantly
If your employer directly assigns shifts to you, you can add the bookings to your schedule through the app. No more messages or phone calls to get shifts sorted.
No more paper timesheets
One of the biggest benefits of using ROTA is around your timesheets. ROTA automatically and accurately records your worked hours so there are no more paper timesheets to complete.
With ROTA:
1. Your hours are approved quickly and easily.
2. You will be notified via the app when your timesheets have been approved.
3.You'll help save paper and reduce waste.
Get started with ROTA
ROTA has been designed to be easy and intuitive to use. You'll receive an email from us with an invitation to download the app. When you open the app, select 'Sign Up – I have an invite' and follow the instructions.
Quick Start Guides
For a guided tour of ROTA and everything it can do, download the ROTA Mobile App Handbook. For instructions on checking in and out of shifts so you can create your timesheets automatically, download the Check In/Check Out Guide. For instructions on using the Rebook feature, which allows you to create and schedule shifts that you have been directly asked to work by an employer, download the Rebooking Shifts Guide.
Enjoy the ROTA difference
We're so proud to have the best healthcare professionals working with TTM. Your dedication, hard work and enthusiasm transforms people's lives every day. We are delighted to have you as part of our #ttmTribe.
We hope you enjoy the difference ROTA makes to managing your TTM working life.
If you have any queries, please contact your TTM Consultant who will be happy to help you.