"Back then we made a pledge to shake-up the world of recruitment and disrupt the 'expected' service our sector has traditionally provided. And it's simple really – it's about really understanding what our partners want and need from us and being genuinely interested to deliver exactly that!"
Every week TTM Healthcare Solutions sends 3,200 people to work in temporary roles in the healthcare market across Ireland, Northern Ireland and the UK. Around 300 people are placed in permanent jobs every month, and we have a total portfolio of 3,600 staff, including Doctors, Nurses, Psychologists, Social Care Workers and Healthcare Assistants. Our HQ is in Ennis in the West of Ireland, and we also have a bustling office in Manchester.
And the fuel for it all has been that thing we call potential. Mixed with a splash of maverick and generous helping of interest in people. It's what gets us out of bed every morning, makes us superheroes at work, and has allowed us to truly shake up the world of recruitment. It's a theme that's been with us from the start - when Brian Crowley started the business in 2002, with just a copy of the Golden Pages, and a drive to create a company that people want and love to be a part of – and which our talent and partners choose to work with.
And we knew exactly how we needed to do it: by simply having a real interest in our partners and talent. Sitting down with them to understand their needs and their pain points. Talking. Listening. Learning. And we can do this because we care on a whole other level. When you're placing doctors and nurses, you know only too well the impact that this has on lives – and the ripple effect if we don't do a good job, or we don't fill a shift. We will never take this lightly. We knew too, that to deliver on this we needed the very best people on our team.
As TTM Healthcare Solutions has evolved, we have remained true to the core values TTM was founded on. Today, our Family Principles truly expresses who we are, how we show up each day and how we approach every challenge. We truly live these values, such as 'Realising Potential', 'Fast Evidence-Based Decision Making' and 'Have Fun & Celebrate Success'. Every day we feel the benefit of this collective way of thinking and we know that our talent and partners feel these benefits too.
I'm privileged to be part of something truly exceptional in Ireland's Mid-West – where we're holding our own as a world-class company.
Here's to the potential of all of us!"
Paula McDonnell - CEO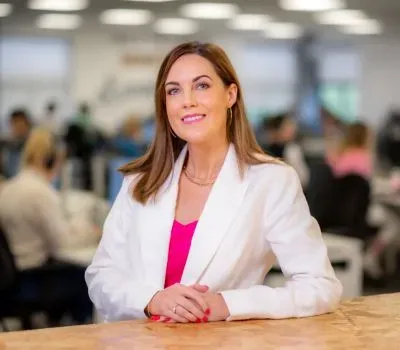 What Makes Us Different?
TTM isn't just a company - it's a way of working, an energy and a culture that delivers rewarding experiences and it all comes down to our Family Principles. At TTM we truly live these principles – they form the foundations of our core identity and inform how we work with our talent and partners. Here are some of our Family Principles that make TTM different:
We really believe that TTM Healthcare Solutions people are special. It's because we have a very clear picture of who we are, the Family Principles we hold close are the shared vision we're all working towards. Here are some of our TTM Family Principles deliver for our talent and partners: