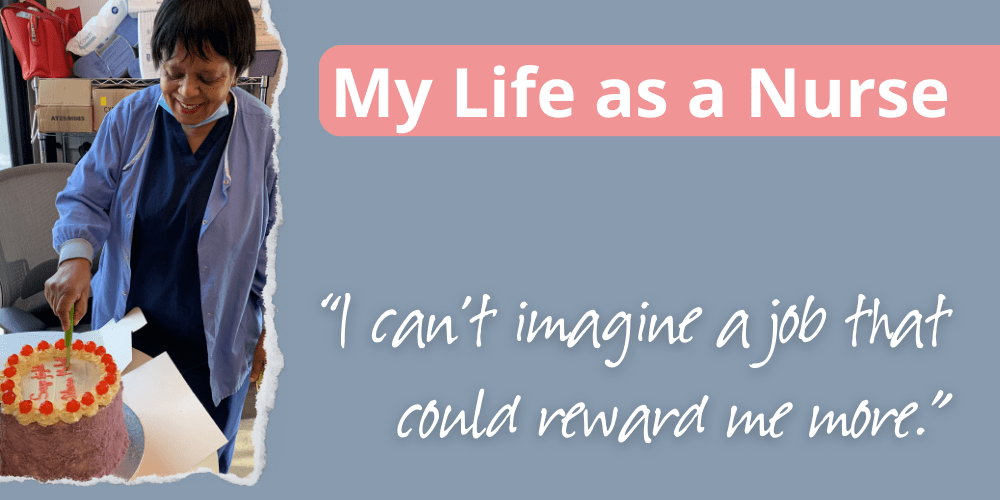 "I can't imagine a job that could reward me more."
"To be at the side of people when they need you most - to be someone they can trust. To learn every day, but also to teach and mentor. The chance to specialise, and to know that there will always be work for you. And most of all - to go home every day having made a real difference to people. I give a lot to my work, and it gives me a sense of purpose. I know I'm a better person for it."
When it comes to nursing, there's not much Endoscopy Nurse, Mabel Mtetwa hasn't seen or done. From her early days of nurse training in South Africa to gaining her degree in Midwifery. And from taking her skills and embracing a new life in the UK, to specialising in Endoscopy and working on the front line during COVID - Mabel's career in nursing spans thirty-nine incredible years and counting. We're so proud to have Mabel working with TTM as an agencyEndoscopy Nurse in the UK - and there's no one more equipped to explain what nursing can offer as a career today.
Four Decades of Caring
Mabel began her Nursing Diploma in 1982 at Kalafong General Hospital in Pretoria, South Africa. In 1986 she qualified in Midwifery and graduated with a Bachelor of Arts in Nursing from the University of Witwatersrand in 2000. To further her career, Mabel moved to Portsmouth in the UK, working across a range of settings including a mobile ophthalmology unit. She went on to join the NHS, living in Dagenham and working as a General Nurse. In 2013 she chose to specialise in Endoscopy and today she works as a Band 5 RGN Endoscopy Nurse at an Inhealth mobile Endoscopy unit based in Southend, London.
Why a nurse?
Mabel knew from a young age that she wanted a career in which she helped care for others, realising that if she settled for anything else it would not satisfy this part of her personality.
"The variety of the job appealed to me too - working with different people every day, in different settings, and the chance to specialise in different areas. Being paid while you're training as a student nurse too really helps - that's a great benefit of nursing. Finances also came into play when I moved over to the UK to work: I had job security and the ability to put my children through university."
From 'Chaos' to Confidence
Mabel smiles as she looks back on her first few days as a nurse, and how 'chaotic' it all seemed until she found her feet. She remembers though that right from the start, she had a mentor to guide her and was taught the importance of 'taking one bite of the apple at a time' and each day as it comes.
"There is so much support for you as a young nurse. There's no teamwork quite like it and you know who to go to for what. You grow quickly and confidently. And you're learning all the time - especially from the nursing assistants who have been working in the hospitals for years."
A Life in a Day…
Mabel works day shifts in the Endoscopy mobile unit and her time is mainly spent assisting the surgical team during endoscopic procedures such as biopsies, colonoscopies and gastroscopies. Patients undergo procedures for many different gastrointestinal conditions, such as ulcers, cancer and inflammatory bowel syndrome and respiratory disorders. Her role is one of providing patient care before, during and after the procedure, and educating patients about their treatment.
Her day begins by sanitising the area, equipment and supplies for the day's procedures, as well as checking the scheduled drugs. She checks the schedule and case load for the day, going on to prepare the room for each procedure.
Mabel will assist with up to 24 gastroscopies a day, or 12 colonoscopies, during which her role is varied and vital. She assists doctors with the equipment they need, observes each patient's vital signs and maintains patient charts during a procedure. She answers any questions a patient might have, documents their condition whilst in her care and updates all patient records. In recovery, Mabel will monitor for any complications and ensure each patient is good to go home.
What Makes a Good Endoscopy Nurse?
Working as an Endoscopy nurse requires real human understanding and empathy as well as good communication skills. Patients undergoing procedures can be nervous and worried, and the doctor relies on the Endoscopy Nurse to put them at ease and make sure they are kept informed every step of the way. Some procedures might not have positive outcomes, so an Endoscopy Nurse needs to know how to provide support when a patient is at their most vulnerable. Mabel explains:
"As nurses we are 'Patient Advocates', which means we are trusted to protect the rights, health, and safety of patients. I'm there to help give patients a voice, explaining to them what is happening and answer questions comprehensively and respectfully. It's about being empathetic in different ways too - from your facial expressions to covering up a patient to protect their dignity. We also have a 'Duty of Candour', which means we must be open and honest should something go wrong, so strength of mind is important.
You have to be a good team player too. You need to give support and accept it from others, and to trust in colleagues who know their own roles."
Mabel has worked with TTM since 2019, and she is clear that her life as an agency nurse has added flexibility and freedom to the work she loves - as well as great job security and reliability. She works closely with consultant Claudia Faraoniwho has always provided excellent work opportunities, choice and next-level support and loyalty.
"I know some agencies can be a struggle to work with, but TTM has a reputation for doing what they do well and for really looking after their nurses. If you're sick and can't work, they'll check in on you, and they'll listen if you have a problem. They always provide opportunities with the best pay rates."
Mabel enjoys being able to choose when she wants to work, to accommodate arrangements such as weddings or funerals.
You'll Never Stop Learning
For anyone thinking of pursuing nursing as a career, Mabel gives encouragement and the assurance that they will find rewards. She stresses the importance of being willing to work hard but gain plenty and believes a key to success is 'never stop learning' so you keep up with constant developments. She concludes:
"As a nurse you'll see people at their most vulnerable, then you'll see them coming back to say thank you. I believe nursing builds character and it gives you faith in other people. It's us at our best."