What it's like to Work at TTM in the UK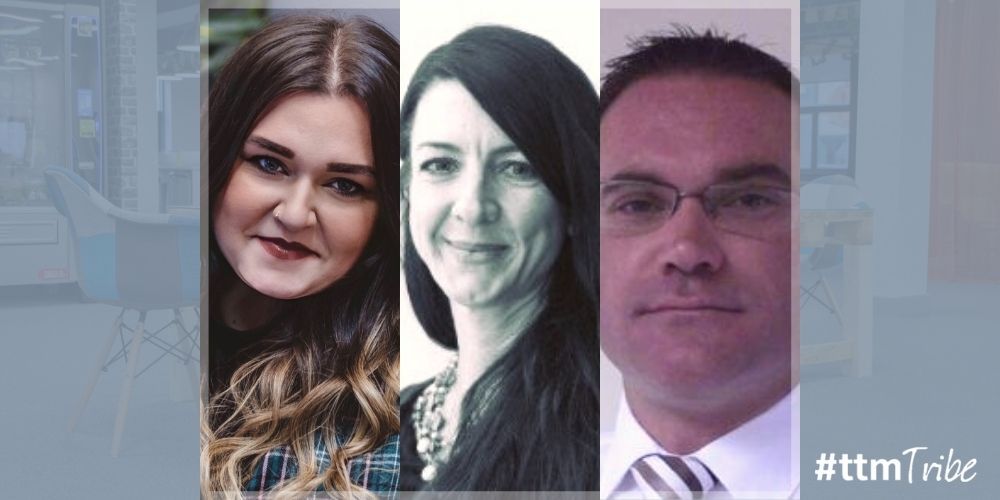 ​Great people. People who really know how to show up, who want to be the best they can be, and motivate others to do the same. It's no coincidence that our #TTMTribe is packed with this kind of people power – our culture, work style and approach attract it. We look for people who want to explore their own potential – then we support them in their journey. It really is what makes TTM a unique and rather special place to work. But don't just take our word for it – here's what four members of our UK team had to say about their personal #TTMTribe experience.
We welcome Radiography Division Recruitment Consultant, Scott Beattie, Temporary Division Recruitment Consultant, Klaudia Kmita-Adegboro, Endoscopy Division Recruitment Consultant, Claudia Faraoni and Temporary Division Business Development Manager, Paul McCormack.
How long have you been with TTM Healthcare?
Scott: I joined TTM in March of this year.
Klaudia: I 've been here for almost 2 years.
Claudia: I joined TTM 4 years ago – best decision ever.
Paul: I've been with TTM for nearly 6 years.
How has your journey with TTM Healthcare been so far?
Scott: Great. Challenging. Exciting! Since I joined TTM in March I've experienced a learning curve like no other! I've been fortunate enough to be given responsibilities that I didn't expect – so I hit the ground running. I can honestly say though I feel like I have evolved into a better recruiter in just a few short months. Yes, it's been tricky setting up a desk from scratch, learning so many new things and trying to not let my impatience get the better of me. I've also learnt to trust my own instincts and act off them. Joining the company during a pandemic was never going to be easy – but I can clearly see progression and a vision of the success that lies ahead for me – which is really encouraging and motivating.
Klaudia:The best. I won't say every day has been easy – but then nothing that's worthwhile is easy! The wonderful thing at TTM is… when you do find yourself having a hard day, and you feel challenged like never before, the culture of the place inspires and 'feeds' you. We all want the same thing – to succeed and do well – and that determination helps you push through and get it right. From a practical point of view, I was also supplied with a lot of supportive resources to make my job easier, and to support my well-being both physically and mentally. That makes such a difference, it makes you feel valued, and proves that the company believes in you. TTM is really in your corner – and you feel that.
Claudia: In a nutshell… a rollercoaster ride that's given me a real 360-degree experience of recruitment. I've been given loads of responsibility, which works for me - and just the right amount of pressure that suits my personality!
Paul: Having worked for TTM Healthcare for nearly 6 years, I have experienced some real highs – as well as some challenges. I think a good measure of my journey so far is the fact that I am as loyal and dedicated to the company as I was in the beginning. This is about being committed to the company's goals - but it's also a commitment to myself, to really be the best I can be at what I do. And even on the tough days – the good always outweighs the bad.
What is your favourite thing about working with TTM Healthcare?
Scott: I like how TTM encourages collaboration and interaction with other members of the team. There's a real sharing culture - people support and help one another – and interacting with others for guidance and support is part of every working day. Everyone is really approachable – so it makes collaboration easy.
Klaudia: My favourite thing about working for TTM is definitely the culture and the people. This job can get stressful and what keeps me going is having some many amazing people around me - from my fellow team members to the senior management team. You can feel that people are invested in the company's ethic of Realising Potential – and there's belief in the Family Values - they're part of every decision we make, every day and they really help to guide you when making decisions or facing challenges.
Claudia: I really love that we're given the autonomy to run our own desks and achieve our own potential. I'm very independent and goal-oriented, and it's important to me that the company trusts me in my work.
Paul: Finishing at 4.30 every Friday, after a long, busy week - brilliant! It's a little thing, but it means a lot. It shows me that the company is happy to reward hard work – and it does so in lots of different ways.
What was your first impression of TTM Healthcare?
Scott: I think I was impressed by the fact that the company is well-established but also on a tremendous growth journey – and I knew I wanted to be on that journey too. I really believe TTM has all the right ingredients necessary to out-run the rest. The company has done so much to reinvent the recruitment experience for both candidates and consultant – making it easy, enjoyable and value-added. It's great being part of that kind of progressive thinking and change.
Klaudia: I felt secure and confident that this is a well-established company that is serious about being a leader in healthcare. I was really impressed that the company's Family Values were palpable right from the start, in my interview and throughout my onboarding process.
Claudia: I think TTM is truly about people, and this sets them apart. It comes through in their strong social conscience and commitment to many different community projects. The company doesn't see itself as an 'island' – it recognises it has a place in helping to build a better world. TTM also puts a lot of effort into engaging with staff and looking for new ways to reward them and better their work experience.
Paul: TTM spoke to my personal ambition. I could see this was a company that has massive potential to scale its business with the English market – and that really resonated for me.
What has been your biggest highlight in TTM Healthcare?
Scott: Too many to mention! Every day brings something new.
Klaudia: A highlight for me has been seeing how, in a really difficult time like the pandemic, TTM people really came together and became stronger for it. So many people have lost so much in the last couple of years – but TTM was there for us. I was new to the company when Covid hit – and in the same situation many other companies might have retrenched me. But because TTM believed in me and my potential, it did everything to keep me, and I'm really thankful for that.
Claudia: Landing a big account with a private client which has seen my career grow from strength to strength. My division is the preferred provider of all Endoscopy staff for the largest healthcare provider in the UK – a real accomplishment.
If you like the way TTM thinks then find out more about joining our winning team.