TTM Healthcare Solutions acquires ROTA and a majority stake in MMA Healthcare Resourcing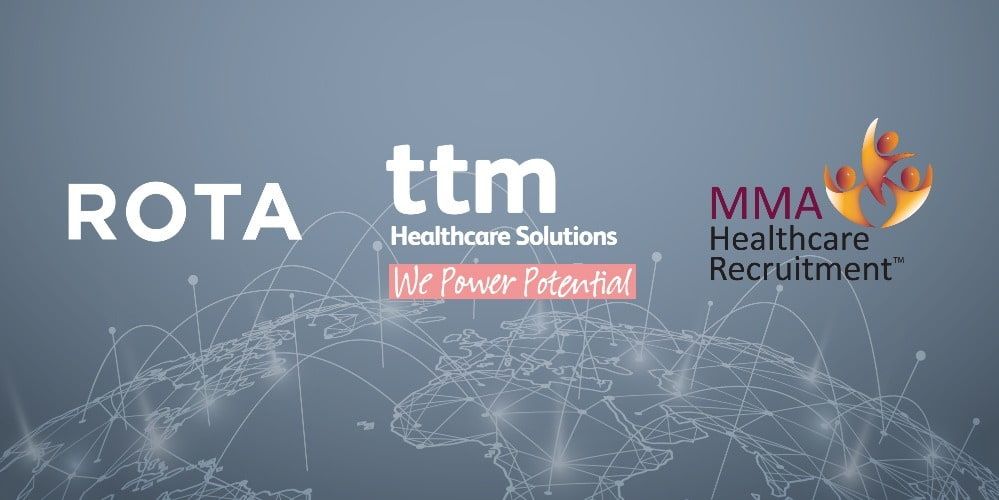 Healthcare Solutions provider TTM acquires ROTA and MMA Healthcare Resourcing
Strategic focus on technology and expanded solutions fuels international acquisition targets and global growth
​
TTM Healthcare Solutions, the healthcare solutions business and a significant supplier of staff to the NHS, HSE and HSC (NI), has today announced the strategic acquisition of two global companies.
The acquisition of ROTA, a workforce management platform that connects workers with shifts and MMA Healthcare Resourcing, an international workforce solutions provider, will allow TTM to leverage technology and international scale to service its clients and accelerate growth.
Founded in 2002, TTM Healthcare Solutions partners with some of the largest healthcare providers in the Public, Private and Voluntary sectors. Providing Healthcare Workforce Solutions, International Workforce Solutions, Healthcare Process Outsourcing [HPO] and workforce management technology.
TTM has a portfolio of 3,500+ staff, including Doctors, Nurses, Psychologists, Social Care Workers and Healthcare Assistants, as well as placing non-medical support staff into medical settings, from HR to finance and IT. It places thousands of people from domestic and international markets, to work in temporary and permanent roles across Ireland, Northern Ireland and the UK each week. TTM is headquartered in Ennis, Co Clare and has offices in Dublin, London and Manchester.
Speaking on the acquisitions, Paula McDonnell, Managing Director of TTM Healthcare Solutions said, "The business has evolved significantly over the course of the last few years. We are very much a healthcare solutions company now, offering a wide range of services to our customers. We have become true experts in our field through our experience of working in healthcare for 20 years. With these acquisitions, we are able to offer a menu of services from talent and workforce management, international workforce solutions, healthcare process outsourcing and now workforce management technology. Our vision is to scale the business through internationalisation and technology and these acquisitions are the first step on delivering against that vision."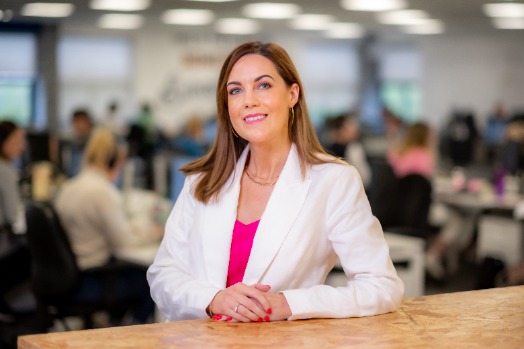 Paula McDonnell, Managing Director, TTM Healthcare Solutions
TTM Healthcare Solutions is acquiring 100% of ROTA to add an advanced technological solution to its customer offerings, contingency workforce resources and its total healthcare solutions for clients.
Daniel Wallace, Chief Product & Technology Officer, ROTA said" Joining TTM Healthcare Solutions enables us to scale our capabilities and extend our reach, delivering our services to even more clients globally. Our companies share a common vision to reimagine workforce management. ROTA and TTM's solutions enable our customers to better manage their evolving workforce dynamics at speed, driving value. It is a perfect match."
On acquiring ROTA, McDonnell added, "The technology manages clients' requirements for multiple site locations as well as a multi-disciplinary workforce. We see technology making a significant impact on the way workforces will engage with employers in this highly evolving market. Through ROTA, we are able to produce real-time management information both internally and for our customers. Our total technology offering will be unique in this space and will serve to connect a fast-paced international talent-driven market."
At the same time, TTM Healthcare Solutions has purchased a majority stake in the International workforce solutions provider MMA Healthcare Resourcing. MMA is strong in the private healthcare sector and provides "in-country" sourcing through its network of offices in South Africa, India and the Philippines.
Melinda Moolman, MD of MMA Healthcare Resourcing, "Having spent time getting to know TTM Healthcare Solutions, I can see that there is an excellent cultural fit between both of our companies. Our values are very closely aligned. This was very important to my team and I. Both of our businesses share a similar vision – to deliver outstanding international workforce solutions that help transform the talent base of our healthcare clients. Joining forces with TTM is an incredibly exciting next chapter and we look forward to leading the market globally for international talent solutions."
Regarding MMA, McDonnell added, "We see this as a significant complement to our own business where we are very strong in the public sector. We intend to maximise our ability to offer employment to candidates across the world in a range of roles across the UK and Ireland in the Public and Private sectors."
TTM Healthcare Solutions is a Broadlakecompany. Both acquisitions were completed simultaneously in under 4 months, from initial contact to closing. This quick and successful completion was achieved by engaging a team of trusted advisors across both deals. Advisors included Tughans Solicitors, Belfast, led by John McGuckian, the Grant Thornton Tax team in Belfast and Dublin, led by Peter Legge and Mark Bradley (Belfast), and Gareth Cosgrove (Dublin) and Technology analysis and assessments delivered by Paul Quinn and the team in BoatyardX.
Kevin MacSweeny, Head of New Investments and Origination, Broadlake, "The recent acquisition of Rota and MMA are a part of the strategic growth plans for TTM. Realising our ambition to scale internationally and to lead the market with technology-enabled services for our clients. Once we had identified the right partners in ROTA and MMA, and we knew the fit was right, we moved at pace to complete both deals quickly. We would like to thank Philip Ellis and the Optima Corporate Finance Team for introducing us to both the Rota and MMA Healthcare Resourcing opportunities. We are currently looking at other opportunities in technology-enabled healthcare services, clinical services insourcing and outsourcing and further international acquisitions."
Broadlake is one of Ireland's fastest-growing groups, focused on partnering with entrepreneur-led businesses and SMEs to realise their potential. Broadlake companies operate across Ireland, the UK, Central Europe, South Africa, the Philippines and India. Broadlake is actively pursuing a number of acquisitions in Asia and North America in 2022.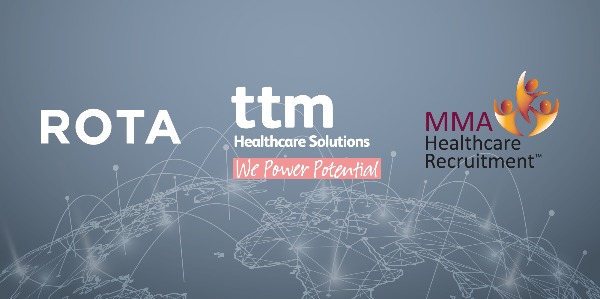 TTM Healthcare Solutions is a leading provider of healthcare professionals and affiliated healthcare services globally. Healthcare is its sole focus offering a full set of services and talent across various healthcare professions - from Doctors and Nurses to Allied Health Professionals. It also works with non-medical staff in healthcare settings – including IT, administration, accounts and beyond.
TTM's deep sectoral knowledge of recruiting across a wide variety of healthcare professions and environments enables it to understand the challenges its customers face beyond talent management. TTM's Healthcare Process Outsourcing [HPO] division works with and supports its customer's internal processes and teams, delivering specialist healthcare solutions specific to their changing needs
Its holistic approach to Total Talent Management allows the company to comfortably source staff for the frontline, those behind the scenes and everyone in between.
Rota accelerates organisations and agencies, helping them build, manage and engage their entire workforce with one easy to use platform. Their leading technology consolidates internal & external staffing processes, ensuring people & teams spend less time trying to organise employees and more time adding value to the business.
About

MMA

Healthcare Resourcing:
MMA Healthcare Resourcing provides international workforce solutions to customers in the UK and Northern Ireland with a strong presence in the private sector. MMA provides international workforce solutions to customers in the UK and Northern Ireland with a strong presence in the private sector. Providing a best-in-class service to its customers through its network of offices in South Africa, India and the Philippines.