Working As An Endoscopy Healthcare Assistant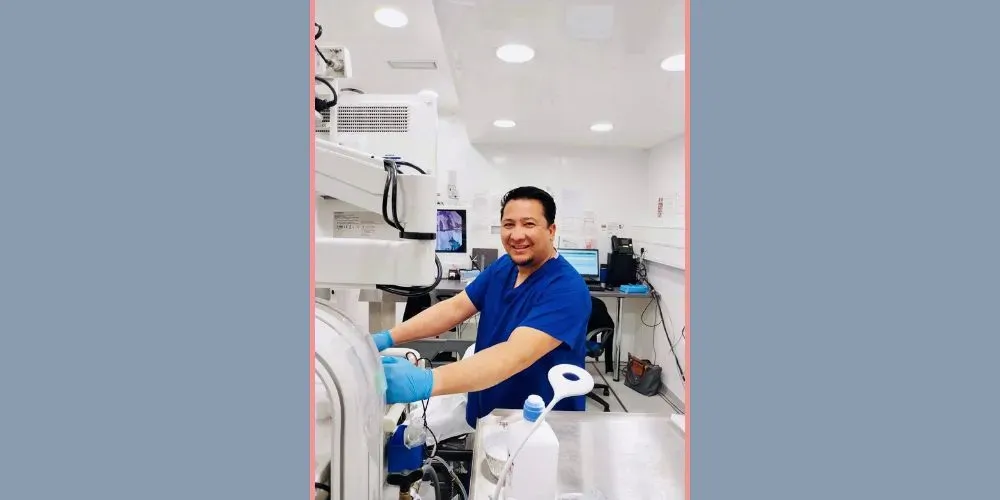 There's nothing we love more than helping those we work with explore their potential. Each day we work with healthcare professionals who are achieving their professional goals with TTM - and one of them is UK-based Endoscopy Healthcare Assistant, Noli To-Ong Panal. We're pleased and proud to share his story and career experience with you…
Noli is originally from the Philippines and is the son of a politician, with siblings who all chose to build careers in business. Noli graduated with a degree in Political Science but discovered early on that this was not his passion. He felt his future lay in a different direction.
"My mum was ill for some time, and I took time to be her personal carer and helped her regain her health. This was an important motivator: I discovered that caring for her gave me a sense of purpose. I'm compassionate and empathetic and I felt I had found a home for this - so I decided to study nursing, which I did for three years."
Noli qualified as a nurse, but job opportunities in the Philippines were scarce, so he made the move to the UK in 2009. He started work in Health and Social Care Management, and this involved him working twenty hours a week as a Healthcare Assistant for a company that specialised in dementia care. After five years, Noli progressed to Senior Healthcare Assistant (Team Leader) and moved to a private hospital, working in gynaecological and endoscopic surgery. He then went on to work at the Endoscopy Unit of an NHS Trust for five years. Then in 2021, Noli decided he wanted to explore the flexibility and financial benefits of agency work with TTM.
"At that time, I had a young family - my children were 8 and 4. My wife was also working in healthcare, and I really needed flexibility to be there for the kids. Working with TTM as a temp made so much sense - lifestyle-wise and financially speaking, and I have honestly not looked back. I work at an Endoscopy Hospital and also move around - and it works so well for me."
Starting-Out Challenges
Noli admits to being nervous when he set out as an HCA - but reminded himself that he had all the skills, experience and knowledge to do his job well. Getting used to new accents and terminologies were some of his early challenges:
"I was used to American English not British English - but I soon got used to the change. I also got so much support from my colleagues, and the patients are all very nice and like to help you if you're stuck. One of my earliest challenges was getting to know what Marmite toast is!"
Part of the Professional Team
Working in Endoscopy, Noli is not a 'regular' HCA - he has acquired the skills and done the training to work in this specialist field. For example, he is qualified to cannulate a patient. During any procedure, he is a key part of a team of three - the Doctor, an Endoscopy Nurse and himself as an Endoscopy HCA.
"My work is a lot more technical than that of a traditional HCA - I have a different set of competencies. It's great to be such an important part of a small, specialised team where every person counts. Different doctors have different preferences as to how they like to work, and I need to know these. I'm truly involved in every step of the process."
The Working Week
Noli's working week begins when his TTM consultant, Claudia Faraoni, sends out his rota. He normally works two or four days, with full or split-shifts - and enjoys great flexibility as to when he works.
He begins each working day by preparing the room, laying out scrubs and all consumables to be used during each procedure - making sure everything necessary is there and in good supply. He is responsible for bringing each patient in on time and preparing them - ensuring their dignity and reassuring them at a time which can be quite daunting for them.
"Apart from the technical side of things, such as connecting all probes and the BP cuff, I'm there to comfort and reassure the patient. I'll talk to them throughout, hold their hand, try and keep them distracted. In this way I can really make a difference to a patient's experience, and it's great when they come out the other side with a smile."
TTM and You
Noli is a major 'advocate' for TTM which he describes as 'my home'. The flexibility of agency work continues to work for him, and he knows that Claudia looks after him, bringing him the right opportunities. He values the fact that his job as an Endoscopy HCA is secure and stable, and he is never short of work.
"I know I'm in the right place, and I have told so many of my friends, colleagues and nurses I work with - choose TTM, they will look after you. You cannot compare them to other agencies, they're on a level of their own. I enjoy working with Claudia - she's always friendly, helpful and never stressed, and she's always available when I need her. Of course, it works both ways - she knows she can rely on me because I work hard."
Noli loves the continual learning opportunities his work presents. He takes advantages of training courses offered to develop his skills and keep up with new techniques.
Achieving Potential
Noli has applied to the Nursing and Midwifery Council (NMC) and is waiting to do his conversion exam to qualify as a Registered General Nurse, with a view to specialising in Endoscopy. Consultant Claudia is helping him with the application process, and he's excited as to what the future holds.
We wish Noli everything of the best as he progresses his career.
Want to know more? Find out about working with TTM and available Healthcare Assistant opportunities here.