Exploring the Potential of International Workforce Solutions in Long Term Workforce Planning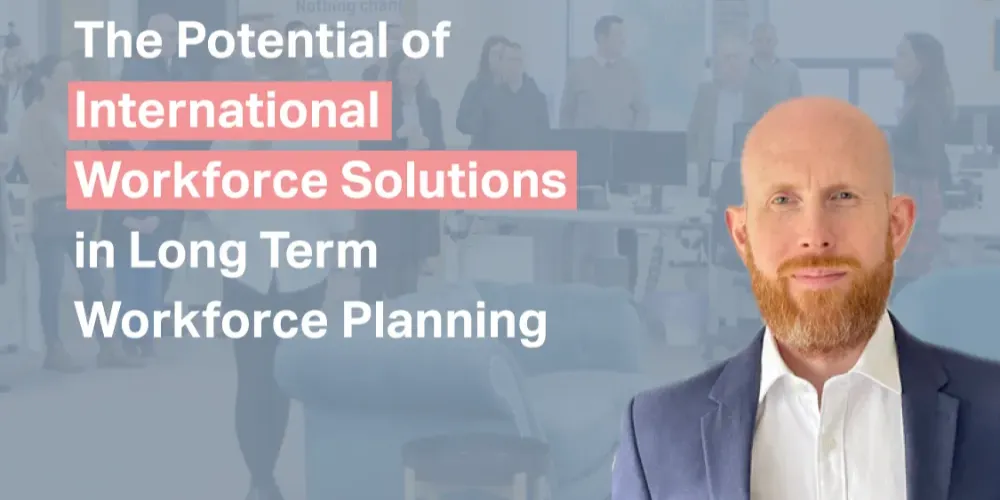 Tackling the Challenges of Healthcare Talent Recruitment
Analysis by Greg Ayles, Head of International Workforce Solutions at TTM
The workforce shortage is one of the biggest challenges the NHS faces.
NHS England Vacancies
2023 vacancies: 112,000+
2036/37 projected vacancies: 260,000 – 360,000 [1]
To fill gaps and ensure safe staffing levels, many NHS trusts increasingly rely on bank and agency staff. Even when weighing up the benefits of a flexible workforce that can be mobilised at short notice to meet peek demands or unforeseeable workforce gaps, temporary staffing is not always the most efficient or cost-effective solution for services or for taxpayers.
Cost of Bank and Agency Staff
2018/19: £5.85 billion
2021/22: £8.16 billion
39% increase [2]
And with so many NHS trusts under cost pressure, and budgets being challenged year on year, we must ask if there a better return on workforce investment to be explored.
International workforce recruitment is a valuable alternative. It brings a wealth of advantages, and offers a longer term, more sustainable solution to workforce planning than temporary recruitment. The comparative costs savings can also be significant, even if a balanced approach is taken and acceptance is made that a mobile workforce will always be necessary because of the nature of the services provided.
It's why, at TTM Healthcare Solutions [TTM], we help our partners to increase their number of international recruits as part of their wider workforce plan.
Our 20 years' experience as healthcare workforce solutions specialists mean we understand the challenges your organisation faces and know how to develop specific, tailored and sustainable solutions that meet your precise requirements. Did you know?
• 3,600+ overseas healthcare professionals start their career in the UK and Ireland through TTM every year
• 300+ international nurses come to the UK and Ireland through TTM every month
• TTM Healthcare Solutions are a NHS WFA Framework for International Recruitment Provider
The Case for International Healthcare Recruitment
International staff make a huge contribution to the NHS.
One in six NHS staff in England reports a nationality other than British [3]
Even as plans to increase the number of domestic healthcare professionals start to take effect as part of NHS England's long term workforce plan, overseas staff will continue to have a role to play [4] because they bring huge benefits to organisations.
The NHS has a prestigious worldwide reputation, and it attracts highly qualified, highly skilled and deeply compassionate professionals ready to progress their career in the UK.
By prioritising permanent international recruitment to fill workforce gaps, NHS trusts can reduce their reliance on agency staff, releasing funds to spend in other areas.
That said, as a workforce 'solutions' provider we do take an agnostic approach. In fact, solution by its very definition means an answer to a problem. That is why as a true partner, we offer balanced solutions that can be to either deliver longer term workforce vision and / or short-term support. This takes the guise of both mobilising a temporary workforce as well as recruiting talent domestically and internationally.
No one customer is the same, so TTM always find the optimum solution. One approach we take is to review spend holistically with a keen eye on trends. A key insight we often see is that over a protracted period there is consistent level of spend on agency workers, in the same department(s) or ward(s).
Acknowledging not every instance has the same reasoning or justification, in some case the question is asked "should that spend be added to the budget for an internal recruitment programme?". With that as food for thought, it is worth looking at comparable year-on-year costs (based on an FTE basis) for an Agency Nurses [5] vs International Nurse.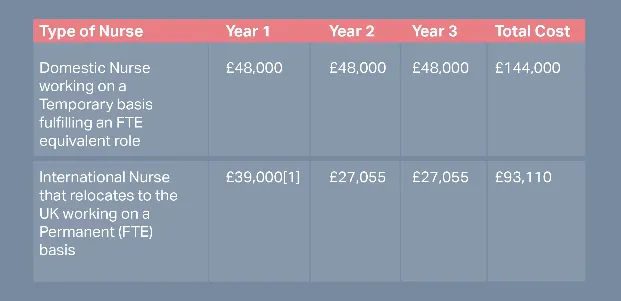 Year 1 includes approximate additional costs and expenses when recruiting internationally, including but not limited to; Certificate of Sponsorship (COS), flights, accommodation, OSCE etc.
The potential savings (£50,000+ or 35%) from taking a longer-term view and approach are clear to see and kick in from the first year. With a shortage of domestic talent to take up full time posts the evidence suggests this is a better way to budget and spend taxpayers' money.
International staff bring cross-cultural inspiration, ensure the principles of equality and diversity are embedded in an organisation and reinforce the NHS as a universal service.
Partnering with TTM
Partnering with TTM to help with your international workforce recruitment brings many benefits.
Rapid Access to High Quality Staff
We have an 80% interview to offer ratio and, on average, TTM international nurses arrive between 7 and 9 weeks after a successful interview.
A Fully Managed End-to-End Recruitment Solution
Our fully managed service from candidate attraction to interviewing, compliance and beyond gives you all the support you need.
Comprehensive Pastoral Care Provision
Our pastoral care programme ensures international staff get the personal and professional support they need to settle into a new country. TTM have a 99% retention rate in the first 12 months post placement.
Tailored Provision to Meet Your Unique Requirements
Whether you need to recruit for general roles or hard-to-find specialisms, for a single role or a high-volume requirement, we have resources and expertise required.
We have offices and staff in the UK & Northern Ireland, Ireland, the Philippines, South Africa and India as well as partnerships with over 50 agencies worldwide. It means we have the global reach you need to secure the most talented individuals for your organisation.
And because we have a genuine people focus, the relationships we build with our partners and our healthcare talent set us apart, helping to make the difference you need.
Find Out More
Explore our international workforce solutions provision and see how other organisations have benefited from our expertise.
[1]NHS England: NHS Long Term Workforce Plan June 2023
[2]NHS England: NHS Long Term Workforce Plan June 2023
[3]House of Commons Library: NHS staff from overseas: statistics
[4] Page 109,NHS England: NHS Long Term Workforce Plan June 2023
[5]NHS England agency price card