Top Themes from NHS ConFed Expo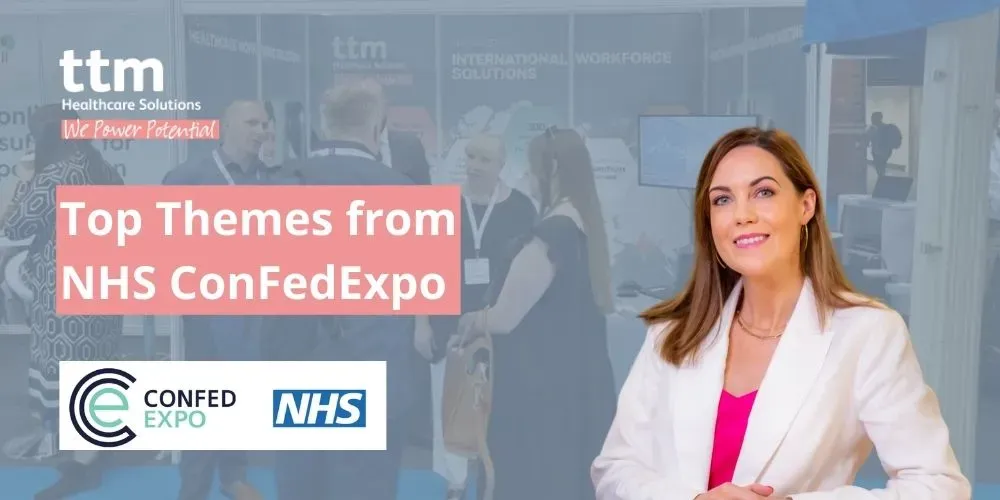 Our industry descended on the NHS Confed Expo in Manchester last week for insightful debate and presentations about healthcare and innovation. For TTM, this was an opportunity to stay on the pulse, ensuring we are aligning our conversations and services to industry needs.
The conference explored the five key themes of People, Quality & clinical improvement, Health Inequalities, Collaboration & partnerships and Driving recovery. Here are TTM's takeaways on the headlines.
1. Everyone's talking about the Hewitt Review.
The Hewitt Review is an independent review of Integrated Care Systems (ICS). Each ICS has an Integrated Care Board responsible for meeting the healthcare needs of the population, managing the NHS budget and prioritising services. Recommendations have now been put to the Government which will have important implications for how the healthcare sector operates, for example:
• Shifting the focus from illness to promoting health.
• Empowering local leaders to improve the health outcomes for their populations.
• Building a sustainable, skilled workforce.
• Resetting the approach to finance.
• Enhancing the role of the Quality Care Commission.
The Government is now considering the findings and we expect to hear more on this in coming months.
2. We'll need to continue to help our clients balance the short and long term.
Speakers highlighted the ongoing challenges of reacting to the immediate versus focusing on preventative healthcare. With a General Election on the horizon, they pointed to the Government's 'forensic focus' on reducing the current NHS waiting list and addressing immediate manifesto pledges. As a result, Confed members are finding it challenging to look to the future, dealing instead with the immediate pressures of emergency care and elective recovery.
But the presenters contrasted this with clear acknowledgement of the need for long-term change: a healthcare system that identifies and remedies potential health issues sooner and invests more in staying healthy in the first place.
3. Improving patient flow is a priority for the industry.
Patient flow and the need to free up hospital beds is a big issue, with 12-14,000 people in primary care recovery whose discharge had been delayed due to the lack of 'move on' options. Speakers highlighted this as one of the key reasons for the urgent need to move to more preventative and integrated ways of working.
The Public Health Network have worked hard to influence a more intelligent debate, moving away from the idea of bed-blocking to potential solutions. One area being looked at is whether the funding typically reserved for winter could be made available earlier in the year to prevent issues sooner.
4. Stretched finances will influence our clients' spending ability.
Stretched finances will become even more thinly spread, according to many at Confed Expo, and this is influencing everything from capacity in mental health services, to big infrastructure investment, such as hospitals. It's also slowing much needed digital transformation.
Integrated Care Boards are being asked to reduce operational running costs – such as staff – by 20%. Meanwhile, some healthcare leaders in acute facilities are required to find 6-8% of 'efficiency savings', in a budget that speakers described as 'extremely tough'. For the Mental Health Network, the challenge is ensuring mental health gets its fair share – this is not currently playing out in funding allocations, with more money consistently allocated to physical healthcare services.
5. TTM's strong partnership approach is an advantage.
The Expo speakers unanimously agreed that strong partnerships would be essential as the industry seeks to deliver a more productive, more proactive NHS in the face of reduced funding and labour.
They gave examples of how this is being put into practice around the country, from the NHS Confederation's focus on bringing members together for peer learning, to the Mental Health Network's experience with positive collaboration on mental health issues. Meanwhile, the Primary Care Network discussed how they are responding through the creation of regional design groups. These member-led groups include local care providers, pharmacies, mental health support and more – who will share and deliver tools and best practice.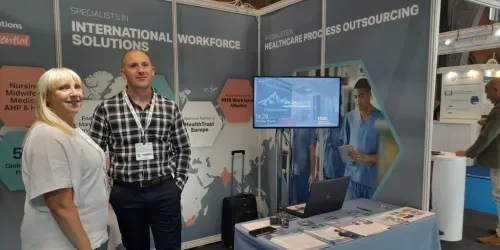 6. Demand for mental health services is consistently high.
Alex Stuart from the Mental Health Network discussed how the organisation is working across the NHS Confederation to encourage collaboration on all areas of mental and physical health. Demand remains consistently high, with 1.2m people on the waiting list for community mental health services who've not yet been seen.
People are staying longer in hospital and there's a difficulty with discharging patients due to a lack of 'move on' options. Staff vacancy rates are also high – 30% of nursing vacancies are for mental health nurses – creating workforce pressure.
There is, however, positivity around the huge potential for digital innovation to help address demand. Alex also highlighted how the move towards integrated care systems and community focused services is leading to some great case studies of partnership working. Finally, mental health spending is likely to be maintained and protected at least at current rates, under the Hewitt Review.
7. We have a role in supporting a culture of improvement.
Regulation was also high on the agenda. The Director of the Health Network stressed the need for a significant shift in the whole of the NHS to create the right regulatory environment – a culture in which improvement can flourish in the face of pressure.
Expo speakers agreed it is challenging to deliver better ways of working and to ensure staff get the right amounts of training and support, against a backdrop of stretched funds and resources.
Analysis by Paula McDonnell, CEO of TTM Healthcare Solutions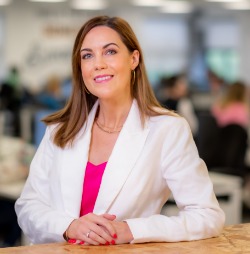 The conference was set to be one of the biggest and most significant healthcare conferences in the UK, creating a single point of focus for health and care leaders, their teams, and the many supplier partners to come together to drive transformation through digitisation, innovation and collaboration. This year's Confed was no exception.
But what does this all mean for us at TTM? Firstly, we have a crucial role to play in supporting the much-needed shift from reactive to preventative healthcare, by offering capacity to alleviate workforce pressures. For example:
•Our International Recruitment Services create speedy access to skilled nurses within 7-9 weeks.
•Through our UK domestic temp and permanent talent management offering, we support the sector with superb, highly skilled and compliant candidates.
•Our Digital OSCE programme enables organisations to brilliantly support their new nurse arrivals with a head start on passing their exams, while equipping them to meet NMC nursing standards.
There are other ways we can support, too. Our Healthcare Process Outsourcing division helps organisations realise time, cost and process efficiencies that translate to their bottom line. Our expert teams slot in with seamless support, as and when it's needed.
The exceptional work of our dedicated validators and schedulers is just one example of this. I'm very proud that in the last 6 months alone, they have validated 200,000+ patients on waiting lists, assisting in reducing that backlog by 40%. Meanwhile our clinical administration support helps boost productivity and reduce stress by freeing up bottlenecks - allowing NHS teams to focus on their core priorities.
It's clear from the Confed that by freeing up our partners in this way, we can support them to focus on other 'big ticket' items, such as digital pathways, patient flow and innovation – the transformation that will deliver a more sustainable, resilient healthcare sector for the future benefit of all.
It's also clear that budgets will continue to be squeezed. We are acutely aware of the challenges our sector is facing, and conscious that budgets will determine how and when our services can be commissioned. As ever, we stand ready to support our clients whenever they need us.
Finally, I'm excited to hear about the many examples of more integrated working, from industry-wide peer to peer learning initiatives, to healthcare innovations that are increasingly being worked through at a neighbourhood level. Our breadth, reach and extensive talent database put us in a strong position to face into this, in whatever form it takes.
It's a timely reminder that we're focusing on the right things and should feel both proud and energised by the difference we're making – so thanks for everything you do.
Paula McDonnell, Chief Executive Officer