Why Work at TTM Healthcare?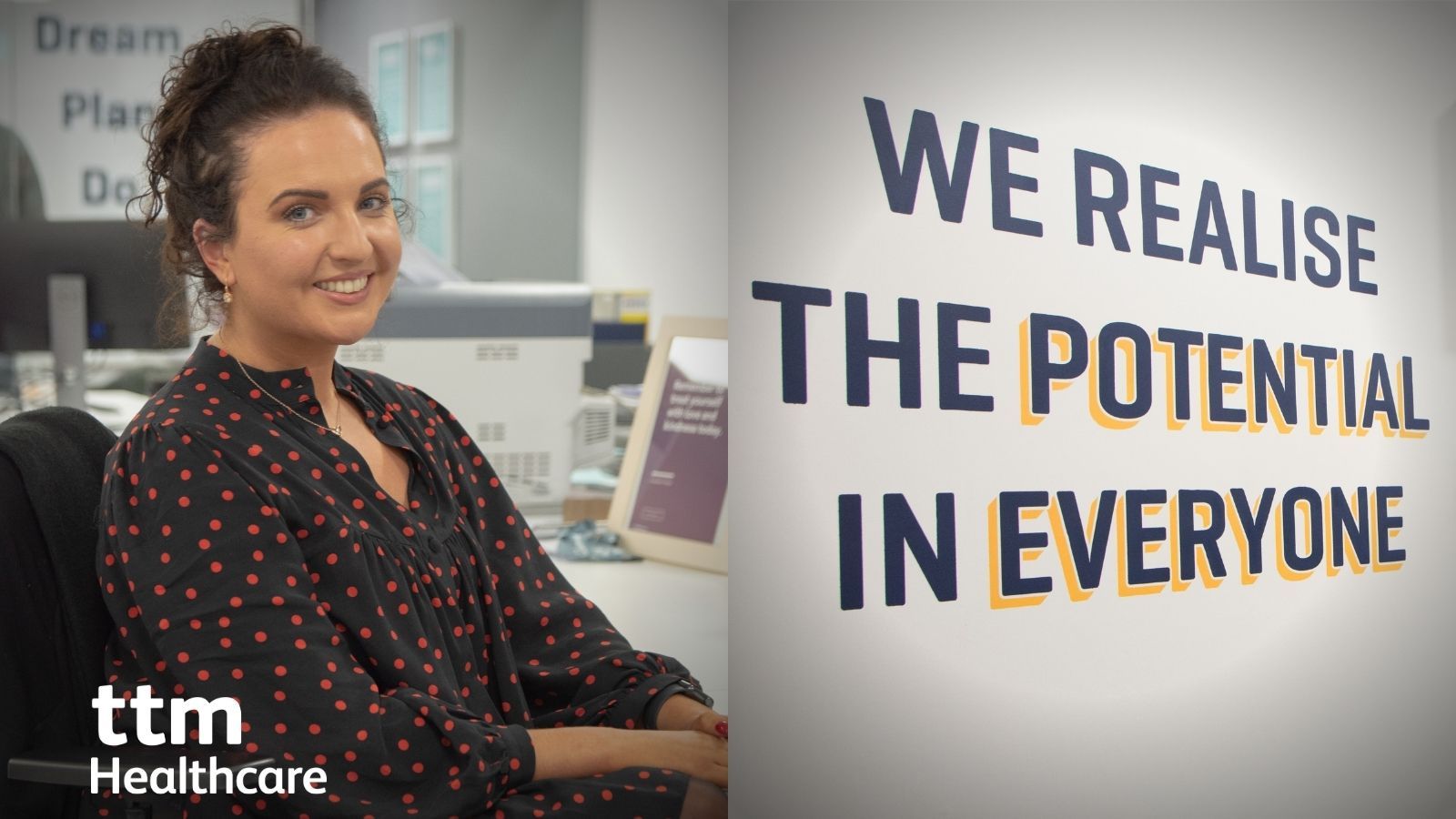 At TTM Healthcare we know only too well that we're an ever-growing company built on people. Every member of our team, whatever their role – knows and feels the valuable part they play in our journey every day. We are committed to doing everything we can to help them realise potential.
To tell us a little bit more about the very unique, benefit-driven culture of TTM Healthcare, we chatted with the powerhouse who looks after the company's People & Culture – Samantha Slattery.
What is your role at TTM?
I am the Senior HR Business Partner at the company, which means I oversee the whole function of Human Resources – including recruitment and selection of internal staff, employee relations, employee engagement & retention, strategic planning and learning & development. It's a big job but a fabulous one: we have such a palpable culture of people recognition here that it is a natural part of every component of the business – it's not an 'add on' – it's systemic, the way we work, part of our DNA. That makes my job easier!
What is TTM's people culture all about?
Realising Potential is the heart of everything we do and are. We believe that every single person has the potential to achieve, and if you're in the right place, with the right support, engagement, training and career planning – this can be unlocked. Right across the company, if you're invested and committed, the support is there to make sure you go far.
Life Working at TTM Healthcare
How does TTM live its culture of Realising Potential?
It all comes down to our Family Principles – the values that form the foundation of TTM. Lots of companies have values and mission statements, but often they're nothing more than a poster on the wall. At TTM we truly live the values – we reference them in everything that we do, starting from a person's very first interview with us.
So, values such as 'Know Yourself to Know Each Other' and 'Have Fun & Celebrate Success' inform how we show up each day, how we relate to each other and how we approach every challenge. Every role has key competencies which are mapped back to our Family Principles, so everyone understands how and what they can do to promote our values. Our Family Principles are our anchor.
How does TTM invest in its people?
We don't just tell people we value them – they feel it. We work with each person to make sure they have a clear progression path with a Personalised Learning Plan – so they always know what the next goal is, and these plans are constantly updated.
Investing in people also means sharing and being open and honest with communication and information. Having things like our Monthly Townhalls, where our Managing Director shares news with us, is really important. If things aren't going right, we're open about it and address it together, consistently.
Yes, we're quite a big company – but we definitely have a small-company mindset when it comes to looking after our team members. We're never too big to put our arms around each other.
How does TTM support a work/life balance?
TTM people love their work – but of course we know we all have lives too! Everyone has commitments, children, interests, challenges – and it can get complicated! So TTM supports a flexible way of working so that life can be lived. We're serious about supporting our people: as a progressive company we have recently introduced maternity and paternity leave payment and operate a return to work programmes to help new parents make the transition back to work.
Tell us about staff progression within the company?
Well, it's huge! We're really proud that 75% of our leadership team has been promoted internally. All vacancies are advertised within the company, so there is always the opportunity to get to the next step. I myself joined the company as Employee Relations and Acquisitions Manager and was promoted to my current position in less than two years.
What kind of people thrive at TTM?
There's no doubt – people who are committed, motivated and team-oriented find their happy place at TTM. People who are serious about their own career journey – and also the journey and development of the company. They 'get it', are excited by it and want to be a part of the next big thing. We all know why we're here and understand the ultimate goal – and there's such a power in this.
What kind of benefits do TTM people enjoy?
There really is so much! There's obviously all the important practical stuff, which is really competitive. The company gives up to 27 days leave per year and additional annual leave for those who have been with us for more than 5 and 10 years. You'll even get your birthday off work! Additionally, everyone has access to our Employee Assistance Programme from the day they start with us.
How does TTM look after staff health and wellbeing?
We have a very active Wellness Committee that focuses on organising activities around mind and body health, and nutrition. We run a Cycle to Work scheme, then there's all sorts of other benefits – like Annual Cardiac Screening and Health coach Screening that we carry out on site.
How does TTM reward staff?
We wholeheartedly believe in Celebrating Success – and mark exceptional billings through the 150K and 250K Clubs. The company gives quarterly incentives – to all team members, not just those in sales – and staff receive a financial reward if they refer a friend to the company and they're offered a role.
How does the company give back to the community?
We are very involved with a range of local charities and organisations, and we give all team members up to 6 paid volunteering days per year to enable them to get out there and contribute to a charity of their choice.
What about training at TTM?
The company invests heavily in training – across the board. Last year we introduced world-class sales-specific training, and this year all areas of the business will benefit with training on everything from communication skills to leadership and motivation. The company also provides educational assistance to those who want to upskill their educational experience.
Tell us about the fun stuff…
We have an active Sports Club and Social Club – organising everything from rugby trips to BBQs and Tapas Thursdays. We have a Potential Live Summer Party each year, pizza days and office Olympics. And remote working hasn't stopped this – we've just adapted!
Find out more about Benefits at TTM Healthcare.
Join our #ttmTribe
What new roles are currently available at TTM?
We currently have the highest level of recruitment ever – so it's a really great time to join our tribe. From January to March 2021, we have welcomed 19 new team members – and counting! We're recruiting across a number of sales teams and are looking at applicants with no experience as well as those working in recruitment who are looking to advance their career. So, anyone from graduate to principal consultant can apply – we welcome all CVs.
We're also looking for individuals who are interested in non-sales roles, such as account management.
We're really proud to be a place at which people actively want to work. They wait for opportunities to become available; and many that leave return in the future. I think that speaks volumes.
If TTM sounds like the kind of company you could call home… If our values match yours and you'd like to share our journey and reap the rewards – get in touch today.
Search jobs in Ennis. Search jobs in Manchester.
Submit your CV for Internal Roles at TTM
​