Preparing your nurses effectively for clinical work in the UK
At TTM, we know you need international nursing staff who are thoroughly prepared for work in the UK.TTM's Objective Structured Clinical Examination (OSCE) Part 2 Preparation Course enables you to brilliantly support your new nurse arrivals as they settle into their new lives, with every opportunity to be successful and add value. It gives them the best possible chance of passing their OSCE exam at the first attempt, while equipping them to meet NMC nursing standards.
Developed by the highly experienced OSCE lecturer and Clinical Nurse Manager, Paula Hick, this course is self-directed, intuitive, and accessible on any smartphone, tablet or computer.
In Summary
• 6-week video course (approx. 18 hours per week or 108 hours total)
• Self-directed online learning
• 24-hour access to 'virtual curriculum'
• Designed to be completed pre-arrival in the UK / Northern Ireland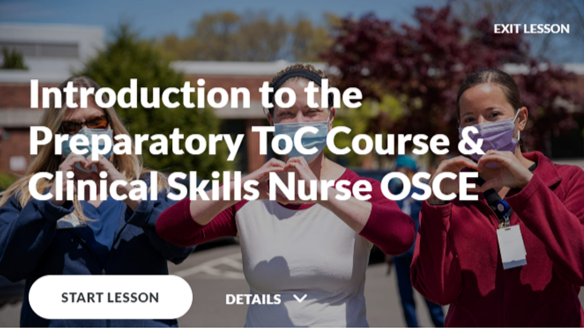 ​
Outcomes
• Prepares international nurses with an in-depth knowledge of the OSCE Part 2 exam
• Provides 20 simulations mirroring those that they will encounter in the exam
• Provides effective preparation prior to travel to the UK or Northern Ireland, easing the transition to the Hospital induction.
• Includes a certificate of completion
Course Overview
This comprehensive 6-week course is designed to be commenced once a nurse has accepted their offer of employment. It provides nurses with the flexibility to learn in their own time, well in advance of arriving in the UK or Northern Ireland.
This virtual curriculum aims to ensure nurses arrive thoroughly prepared and ready to take their mandatory OSCE exam without delay.
​
Course Topics
The course is divided into 4 modules:
1.Introduction to the Preparatory Test of Competency (TOC) Course and Clinical Skills Nurse OSCE
2.Clinical proficiencies skills
3.Assessment, Planning, Implementation, Evaluation (APIE)
4.Evidence-based practice and professional values skill
The course consists of 20 video simulations, together with supporting materials, covering all the likely scenarios on which the nurse will be assessed at their OSCE examination. It comes with 24hr access to an online learning tool to help nurses evolve their existing skills and knowledge and enhance their scope of practice.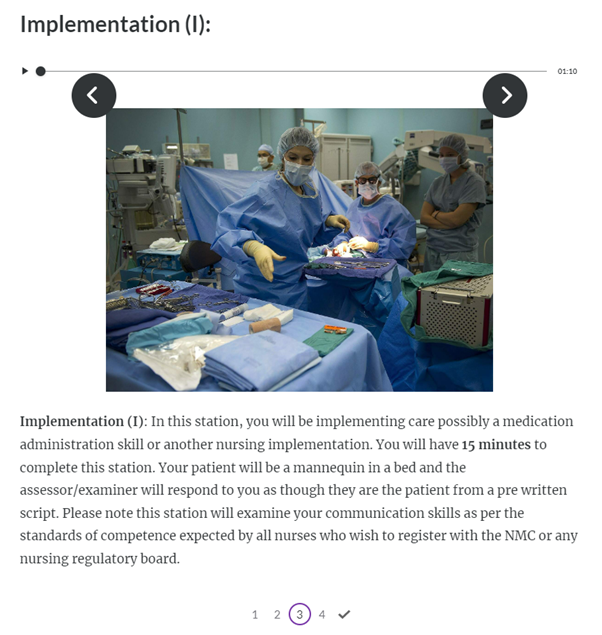 Course Components
This online course includes:
• Course video consisting of slide presentations and video, delivered by a Clinical OSCE Trainer
• Supporting pdf reading materials and reading lists
• Self-directed learning materials/nursing documentation/national policy assessment tools and clinical skills videos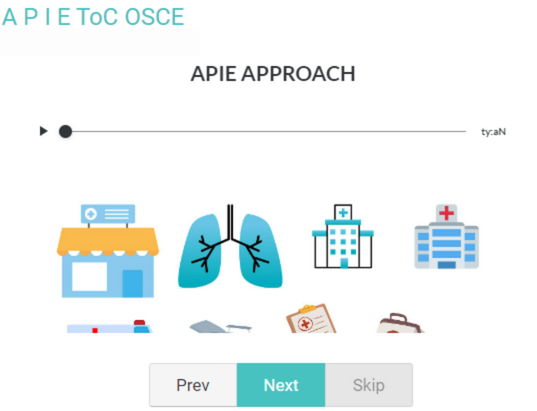 Why TTM?
With a total dedication to healthcare, TTM have 20+ years of expertise in the healthcare sector and an exemplary track record in delivering results for our clients. TTM's International Workforce Solution's ensured the safe arrival 2,070 international nurses in 2022 to public and private sector customers in the UK and Ireland.
Each month we train 1,000+ healthcare professionals in mandatory and continuous professional development courses through our TTM Training and Consultancy Division. TTM Training & Consultancy provides a suite of Health and Social Care-focused training to our partners and their employees throughout Ireland and the UK. We leverage our extensive expertise and knowledge of the Healthcare industry to deliver a best-in-class service.
Enquiry – Peter Maher , Sales Manager International Workforce Solutions.
T. +44 (0) 161 660 0292 E.126