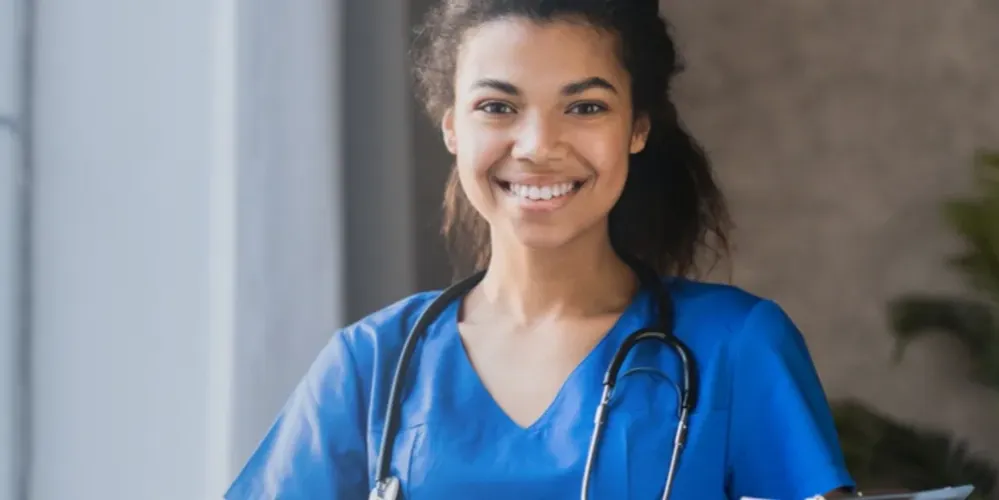 Do you want to start a nursing career? Read our guide and find out exactly what you need to know and do to become a nurse in the UK.
​At TTM we've helped thousands of people follow their passion and goals in Nursing – working with them to secure positions that are right for them, whether at a private hospital in London or a Care Homes in the North of England. We'd love to do the same for you, starting with the vital information you need about pursuing a career in Nursing…
Ask any Nurse and they'll tell you that their choice of career is very much a calling: most Nurses chose their profession because they want to do work that helps people, have a positive effect on the lives of their patients, and contribute to their community and society as whole. But in today's world – Nursing isn't just a vocation – it's a strong career path too.
Nursing is the UK's most employable type of degree: 94% of students get a job within 6 months of finishing their course. Nursing offers great versatility, very competitive salaries and a lot of flexibility in terms of where, when and how you work. From midwifery to emergency rooms, private practice and out in the community, you get to work in a variety of settings – while doing exciting, meaningful work within a profession that is admired and respected.
So exactly how do you qualify to become a Nurse?
What are the Entry Requirements for a Nursing Degree?
Each university sets its own entry requirements for a Nursing degree in the UK – but on average you will need GCSEs including English, Maths and a science (usually Biology or Human Biology) and at least two or three A-levels or equivalent qualifications at level 3. If you have qualifications equivalent to A-levels or GCSEs, contact universities directly to check if they are acceptable. Some universities also offer courses with a foundation year for those without the necessary entry qualifications.
What Characteristics Do I Need to be a Good Nurse?
The most important attribute you should have as a Nurse is to be caring: to have compassion for others. Nursing is always about showing concern, understanding and empathy for the people you serve. You also need to have good communication skills – to follow directions as part of a team and to communicate clearly with your team members, your patients and their families. As you would be responsible for keeping patient records and administered medication dosages, attention to detail is vital in Nursing: you will need to be detail-oriented even when working in the busiest of situations.
A good Nurse can also solve problems, think quickly and make good judgement calls. In Nursing, every patient situation is different – so you need to be flexible enough to know what to do in unforeseen circumstances. You will need to respect all the different people with whom you work – from your co-workers in their varying roles to each individual patient. You need to show this by having a professional manner and being aware of confidentiality.
Another key characteristic is a love of learning: since the world of medicine advances every day, it will be vital for you to keep developing your skills and learn new things.
​Click to search for Nursing jobs through TTM Healthcare.
Which Universities Offer Nursing Degrees?
There are universities all around the UK, offering different practical Nursing degrees – too numerous to mention here. In London alone, you have the choice of these great colleges:
| | |
| --- | --- |
| | University of East London |
| | |
| London South Bank University | City University of London |
| Buckinghamshire New University | |
| | |
| | University of West London |
​
What if I Don't Qualify for a Nursing Degree?
Some of our candidates don't have the traditional qualifications to study at university, so we always highlight the possibility of doing an Access to Higher Education Diploma (Nursing). This is a Level 3 qualification which will prepare you for university study and gives you the relevant academic subject knowledge needed for higher education study. It is a well-established course – respected and accepted by universities – and will qualify you for UCAS tariff points that are equivalent to points given for achieving three A levels.
Become a Healthcare Assistant
At TTM, we help many candidates start their Nursing career by securing them placement as a Healthcare Assistant (HCAs) or Assistant Practitioners (APs) WHILE THEY ARE STUDYING. This is a form of work experience you undertake in the middle of your university degree.
As a Healthcare Assistant you will be trained and supervised on the job and can work in a variety of settings - including hospitals, doctors' surgeries and the community. In this role you would support Registered Nurses – delivering Nursing care to infants, children, young people and older people. Your training as a Healthcare Assistant will vary depending on where you work.
​Click to search for Healthcare Assistant (HCA) jobs through TTM Healthcare.
At TTM we can help you decide what kind of Nursing you want to explore:
From an Adult Nurse to a Mental Health Nurse - We're Here to Help
Adult Nurse - You will Nurse in a variety of settings, including hospital wards, outpatient units, specialist departments, clinics, Nursing homes and out in the community.
Children's Nurse – As a Children's Nurse you will work in hospitals, day care centres, child health clinics or in a child's home. You might go on to specialise in health visiting or school Nursing – or move into management, teaching or clinical research.
Learning Disability Nurse – You will support people of all ages with learning disabilities – in hospitals, mental health settings, workplaces and residential and community centres. You might choose to specialise in education, sensory disability or service management.
Mental Health Nurse – You will help people back to mental health, working with them in psychiatric intensive care units, outpatient units, community health care centres and residential centres.
Agency Nurse or Permanent Nurse?
When you work with TTM Healthcare as an Agency Nurse, you can work when and how you wish to – we'll talk about your availability and preferences and secure the work that suits you best. Rather than working at just one hospital, or even one ward, you can bank on enjoying diverse settings and working with different people.
If you have plenty of availability – you can earn exceptionally well. For example, you might take on extra hours working as a Radiography Nurse in the evenings – increasing your income and growing your experience.
If you think you are more suited to Nursing in a permanent role – just talk to us and we can assist with this too.
​Click to search for Nursing jobs through TTM Healthcare.
How Can TTM Help Me as a Nurse?
We Help You Specialise
At TTM Healthcare UK we are recognised for our work in specialist fields. We place Nurse Practitioners who are trained and experienced in very specific modalities – from endoscopy and MRI or CT scan work, to working in private care homes. This means our clients can bank on very specialised people with finely-honed skill sets in different areas – while our Nurses are able to grow their careers in their chosen field of expertise.
We offer assistance with your Revalidation
As a registered Nurse or Midwife in the UK, you are required to 'Revalidate' every three years with the Nursing and Midwifery Council (NMC). This requires you to prove to the NMC that you remain fit to practice. This process was introduced in 2015 to make sure Nurses keep up to date in their professional practice, develop new skills and understand the changing needs of patients over time.
At TTM Healthcare UK, we can offer assistance and help you to complete your revalidation smoothly. You will need to ensure you are keeping a record of your CPD and compiling your feedbacks. More information about Nurse Revalidation can be found here:
http://revalidation.nmc.org.uk/
https://www.rcn.org.uk/professional-development/revalidation
​To find out more about beginning or progressing your career as a Nurse in the UK – talk to a consultant at TTM.
​Click to search for Nursing jobs through TTM.
Click to find out more about moving to the UK as an international Nurse.