How to become a Healthcare Assistant in the UK with TTM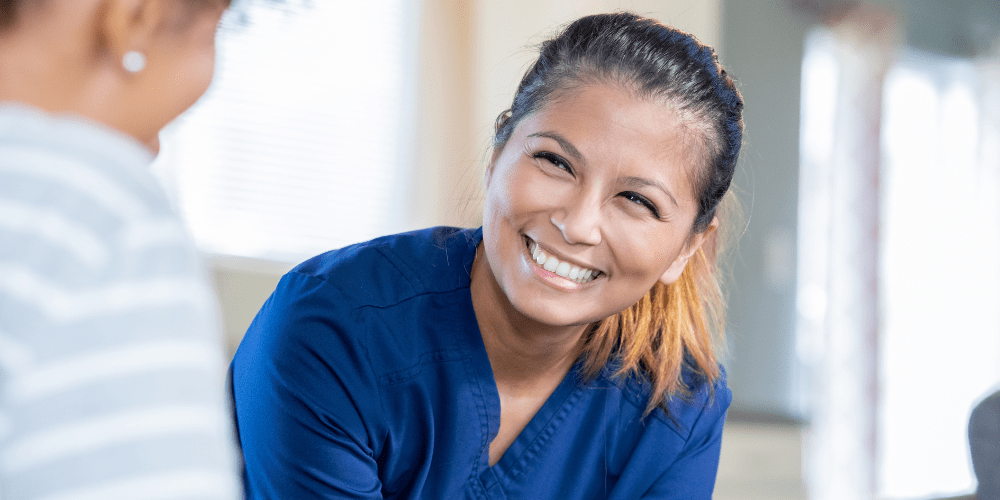 How to become a Healthcare Assistant in the UK with TTM
​Ever wondered what it takes to enjoy a successful career as a Healthcare Assistant? You probably have lots of questions, ranging from the types of role and qualifications needed, to the work itself. TTM Healthcare Solutions is proud to place thousands of candidates each week in the UK and Ireland. As a talent agency that's 100% dedicated to healthcare, we're ready to explain why being a Healthcare Assistant is such a uniquely rewarding and important role. And why joining TTM is such a good option for your career.
What does a Healthcare Assistant do?
In NHS and private hospitals, Healthcare Assistants are the vital link between nurse and patient. They also assist other healthcare professionals with their duties. They may prepare patients before an operation, test or procedure – putting them at ease and making sure all goes smoothly.
In NHS and private settings, Healthcare Assistants give direct care under the direction and supervision of the qualified nurse, who has assessed the patient and established the level of care needed.
The role might typically include:
- Supporting people with social and physical activities;
- Accompanying patients to appointments;
- Helping with personal care, such as washing and dressing;
- Sterilising equipment;
- Supporting patients with eating, drinking and staying mobile.
​As a Healthcare Assistant, you'll be providing vital support at the frontline of the UK's healthcare services, deploying your skills, care and capacity wherever you are needed most.
What skills will I need?
As a Healthcare Assistant, you'll discover that no two days are the same. You'll need to bring a sense of calm, unflappable reassurance to your dealings with other staff and patients, alike. Hospitals can often be stressful environments; patients will look to you to help explain what's happening, so excellent communication skills are essential.
Above all, you will bring tact, discretion, empathy and compassion to dealing with the vulnerable and unwell, interacting with people from all walks of life.
At TTM, we know that working in healthcare can be mentally and physically demanding. We provide you with a dedicated consultant and an out-of-hours support team, together with access to wellbeing tools to support you to feel your best.
What shifts will I work? The benefit of working with TTM
TTM is a national provider to the NHS and enjoys supplier relationships with many of the private hospitals and care settings – meaning vacancies are often advertised exclusively through us. It also gives us the flexibility to match you into a role that works with your lifestyle preferences, whether you have childcare commitments or simply need the right balance. Speak to us about the options – we offer exceptional career opportunities right across the UK.
What qualifications do I need?
You don't need formal qualifications to apply for work as a Healthcare Assistant. However, you will need to:
- Be eligible to work in the UK;
- Be fluent in written and spoken English;
- Have a minimum of 6 months' recent experience in a caring/support role;
- Hold a full vaccination record including Hep B (3 shots & titre), MMR, TB and Varicella;
- Have, or be willing to complete, any essential training;
- Be able to supply references.
You can apply for these roles before you have completed the relevant training. Our Training Division can support you to gain essential qualifications during the compliance process.
How much can I earn as a Healthcare Assistant?
A Healthcare Assistant can earn up to £18.30 per hour, depending on experience and shifts worked. Premiums are paid for weekend and night shifts. Healthcare Assistant salaries within community, private and voluntary settings will vary according to individual organisations.
Why Join TTM?
When you register with TTM you'll be joining one of the UK's leading talent agencies dedicated entirely to healthcare. Benefits include:
- Market-leading rates of pay, career choice and flexible working to suit your lifestyle.
- Thousands of offers and discounts to help with your everyday cost of living, through our 'Perks at Work' programme.
- 24/7 on call Support.
- Award-winning compliance approach – we are known for exceptional standards of quality and service.
Visit the 'Why Join TTM' section of our site for more information.

TTM has a reputation for being totally people-focussed – we're excited to find out more about what motivates you, so please get in touch.