TTM Scoops 2 Prestigious 'Recruiter' Awards for Service and Compliance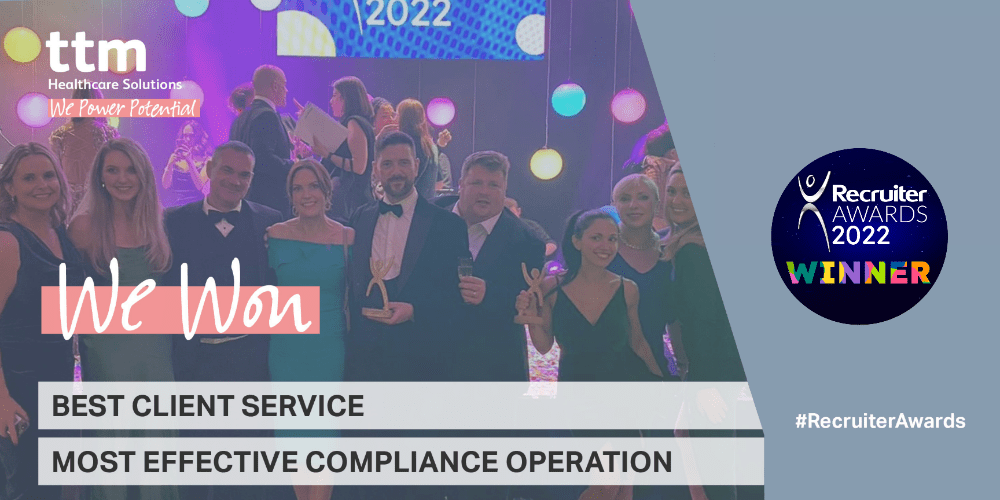 TTM Healthcare Solutions (TTM) has been presented with two highly sought-after awards – Best Client Service and Most Effective Compliance Operation – following a glittering celebration dinner on Thursday 29th September.
The ceremony – hosted by The Recruiter magazine – is billed as the UK's largest recruitment event of the year, with the awards being among the most celebrated. Judges aim to recognise organisations who add outstanding value to their business partnerships and relationships.
TTM were up against stiff competition from talent management agencies across all sectors ranging from Formula One and Media to Technology and Healthcare.
TTM's 'Best Client Service' entry focused on the organisation's work during Covid. TTM overcame numerous obstacles such as travel restrictions and quarantines, to successfully relocate and place thousands of international Nurses and Healthcare Assistants with major UK clients. TTM backed this up with impressive statistics including a 5.4% year-on-year increase in temporary candidates, and its provision of 2 million hours of support to the healthcare industry.
One client commented: "Never has this partnership been more important, or tested, than over the last 18 months as we worked together to overcome the challenges of recruiting from overseas during the pandemic. The TTM team has continued to provide an exceptional service and we look forward to continuing our successful partnership."
Meanwhile, for 'Most Effective Compliance Operation', TTM provided details of its centres of excellence for compliance – the 'golden thread' running through the business that ensures exceptional standards of care for society's most vulnerable people. Judges noted the 45-step 'zero compromise' process that TTM undertakes for each healthcare professional to ensure they are compliant and ready to work.
TTM also gave robust evidence of the thousands of training hours it provides each year to candidates, ranging from mandatory and optional day courses to e-learning modules – all with the aim to maintain effective compliance.
Greg Ayles,Head of UK Sales & Operations at TTM said: "We embark on true partnerships with our clients and candidates to understand their definition of success and what an outstanding service looks like. By talking, listening and learning, we 'walk in our customers' shoes' to deliver a brilliant, value-adding experience."
"
We're delighted our determination to delight our clients has been acknowledged with these awards. Service and Compliance sit at the heart of everything we stand for; the team are thrilled to be recognised
."
For support with making the next career move, or to source talented healthcare professionals please get in touch.