TTM has been shortlisted for 2 Awards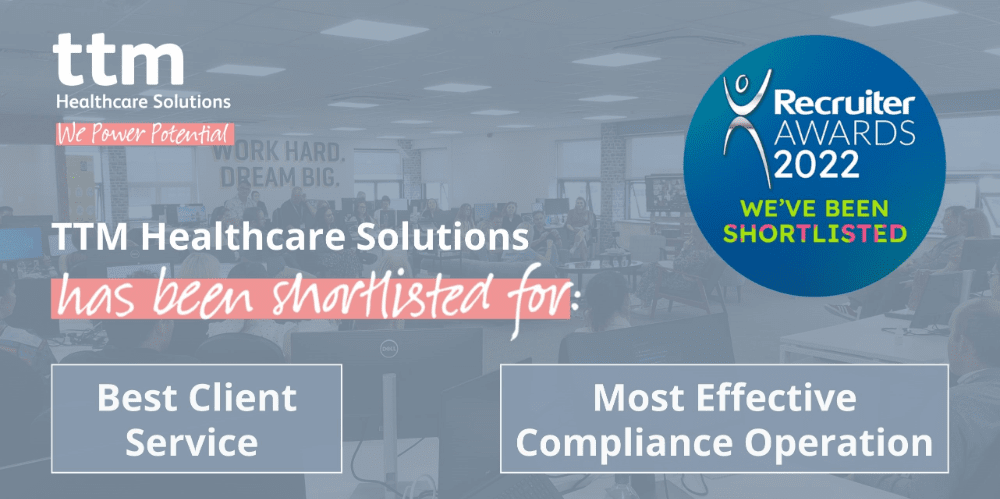 TTM Healthcare Solutions (TTM) is enormously proud to have been short-listed in the Recruiter Awards 2022.
We have been recognised in two categories,
- Best Client Service
- Most Effective Compliance Operation
Everyone at TTM thanks the judging panel. We are delighted that our teams consistent hard work and their dedication to providing a best-in-class service to our Partners and Talent have been recognised.
This recognition is especially gratifying for our compliance team, the backbone of TTM's quality service. Effective compliance, as stated in the award citation, enhances the recruitment sector's reputation in the UK business world. Through rigorous screening, we ensure our candidates have the highest level of skills, knowledge and flexibility to slot into your team seamlessly. All our candidates undergo robust checks before placement. Our commitment to compliance is further reflected through a recent independent audit, performed by Neuven. TTM Scored 99.07% in this thorough audit we undergo annually.
Our dedication to quality and attention to detail has also been hailed in the Client Service category, where the criteria include "outstanding creativity, effectiveness, market insight and innovation". Being shortlisted in this award required strong examples of "exemplary service" being provided to our partners. We are so proud of our teams.
TTM congratulates all short-listed companies and we're very much looking forward to the awards itself which take place in London on September 29.
Meanwhile, find out more about the superb service TTM provides to our health care talent and partners.