Work with HC-One, the Kind Care Company
TTM Healthcare are proud to partner with HC-One, the kind care company, to recruit Nurses from around the world to work to work in one of HC-One's over 300 care homes to provide positive, personalised care and support. It is HC-One's mission to be the first choice care home for Residents and Colleagues in each of the communities they serve. They hope to achieve this mission through providing the kindest possible care to Residents.
By moving to the UK with TTM Healthcare's International Division you can expect market-leading pay and outstanding support. Our experienced team of International Recruiters will be on hand to support you every step of the way.
​Apply now using the form at the end of the page to start your journey with TTM and HC-One.
About HC-One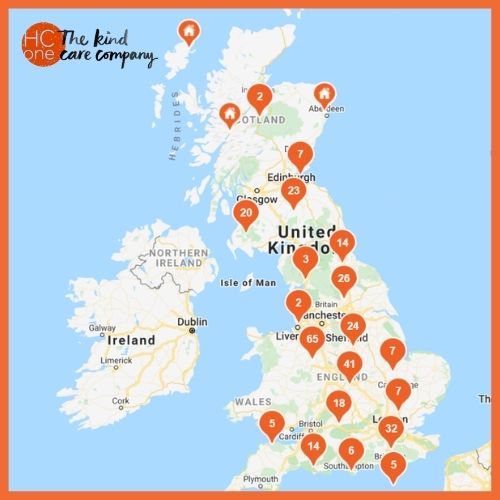 HC-One are pleased to work with, train and develop more than twenty thousand caring Colleagues who deliver round-the-clock care and support. They do this by fostering a culture that actively encourages simple kindness. 'Kindness' isn't just a warm and fuzzy feeling – it's an incredibly powerful force for good, making their Residents and Colleagues feel good about themselves and fostering many positive outcomes.
Their national scale means they have the resources and expertise required to provide the very highest standards of care, guided by our found ethos that each one of our homes, Residents and Colleagues are treated with kindness and as individuals. If everyone was ten percent kinder, imagine the impact that would have on our life.
Locations
HC-One can offer you plenty of choice. You could choose to live in the countryside, by the sea or in a big city like London, Manchester, Birmingham or Newcastle. With the support of our friendly and welcoming team, you could soon feel at home in the UK and part of the HC-One family. See the map for a list of locations:
Benefits
​You're at work a long time, that why it's so important to us, that we create a loving, kind and caring environment not only for our Residents but for you, our team. We work hard to make sure your surroundings are pleasant, that your work colleagues quickly become friends and you are continually supported within your role by your peers. We also know that competitive rates of pay, flexible working hours, free uniforms and continual learning and development opportunities all help towards us being an employee of choice. Alongside TTM International Division's exceptional levels of support, our HC-One relocation package includes:
Highly competitive salaries

Discounts on high street fashion stores

CIPD award-winning learning & development

Free uniform, training and DBS

Visa cost reimbursement on arrival

Flights with airport pickup

Up to 6 weeks of accommodation. Plus Hotel Quarantine for those travelling from Red list countries

Salary Advance to support cost of relocating if required
Learning & Development
​It's simple, HC-One want you to be the best you can be and give their Residents the level of kind care that sets our homes apart. You'll play a key role in shaping their future and helping HC-One to become the first choice care home in the local community. That's why HC-One go above and beyond, to ensure you receive the very best learning and development opportunities to develop your skills and support your career development. You'll have our support every step of the way - starting with a mentor, who will guide you through your learning programme and offer advice for as long as you need it.
HC-One's unique virtual Learning Centre Academy@HC-One offers Leadership and Management programmes, Diplomas, Apprenticeships and opportunities for accredited learning programmes and continual professional development. They invest in you throughout your career, as we want you to grow with us. ​
Requirements
​We welcome applications from individuals who meet the following criteria:
Nurse with 6 months of recent experience in your specialty.

IELTS or OET passed.

CBT passed.

NMC process started or complete.

Looking to travel to the UK within 3 months.
​If you have any queries, please use the Live Chat box on the bottom-right of the screen.
​