My Life As A Nurse Endoscopist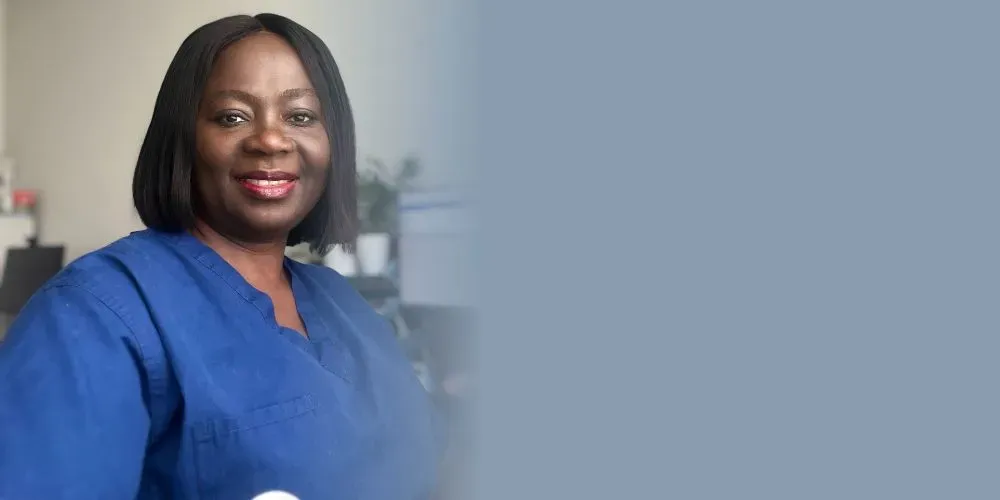 "I'm curious, I love challenge and taking care of people is at the heart of me. My work fulfils me." - Jemima, Nurse Endoscopist
"I always knew I wanted to take care of people. As a child I loved the sciences and wanted to become a doctor. But due to family circumstances I went into nursing so I could earn as I trained, to help support my siblings. In so many ways, becoming a Nurse Endoscopist has taken me back to the heart of my ambition - a love for understanding the human body."
Today, a career in nursing is more multi-faceted than ever - with so many avenues to explore and disciplines in which to specialise. Becoming a Registered Nurse can be the steppingstone to pursuing a world of career pathways - and this has certainly been the case for London-based Jemima Amissah-Doughan. Part of our dynamic team of Temporary professionals, Jemima has progressed from Nurse to Endoscopy Nurse to Nurse Endoscopist - and we recently caught up with her to find out about her journey of growth and fulfilment…
Jemima is an advanced practice, Specialised Registered Nurse - trained under the supervision of medical specialists to perform endoscopic examinations. Whereas an Endoscopy nurse assists with procedures, a Nurse Endoscopist performs them.
Beyond her permanent role, she enjoys the financial benefits and flexibility of doing agency work with TTM. Since 2020, she has complemented her working week with Temporary shifts - in the safe hands of professional TTM consultant, Claudia Faraoni.
Realising Potential
Jemima grew up in Ghana and trained as a General Registered nurse for Adults, working on hospital wards. In 1998, she pursued further education at the University of Ghana in Accra - becoming a Tutor at a Nursing Training College.
In 2005, Jemima's husband got a job as a Mental Health Nurse in the UK and they both made the move there to pursue their professions. Jemima did her supervised practice at the university of Lincoln in Lincolnshire and worked in a local care home. On completion, she became a Junior Sister, working in Amesbury Abbey Nursing home. From the get-go, the challenge and fascination of Endoscopy appealed to her:
"I was immediately fascinated. For nearly two years I worked alongside the doctors and watched them work. After all the years of learning about procedures, I had the opportunity to see it in action and learn from this."
To further her interest Jemima signed up for the Bowel Cancer Screening Programme (BCSP). Then in 2013, to move closer to becoming an Endoscopy practitioner, Jemima began the Bowel Scope Screening Programme and became accredited by the screening board in 2016. She could now carry out Flexible Sigmoidoscopies, as part of a Colonoscopy procedure.
Jemima then started in-house training which would allow her to carry out full Colonoscopies. In 2019, she became fully certified as a Nurse Endoscopist then went on to complete a prescribing course, enabling her to prescribe Endoscopies.
"I had achieved my dream, and this coincided with the beginning of my relationship with TTM and Claudia. I honestly haven't looked back since."
The Benefits of Temporary Work
Jemima has discovered that taking Temporary shifts with TTM perfectly complements her lifestyle. When she began working with TTM she was embarking on further BCSP training, and taking agency shifts allowed her to work around her studies. And as a busy mum she could be flexible to suit family commitments.
All in a Day's Work
So, what does Jemima's day look like? At the beginning of each shift Jemima first goes to the Procedure Room and familiarises herself with the procedures for the day. She checks in with TTM, then interacts with each patient, helping them to prepare for their procedures.
"Getting it right here is all about combining empathy with professionalism. Patients are often fearful, concerned for what their colonoscopy might reveal. It's my job to ease their concerns and to put myself in their shoes. I need to make them feel safe with me and let them know that they can trust me."
Jemima is assisted in all procedures by an Endoscopy Nurse as well as a Patient Advocate. In any given shift she can complete from 8 to 10 points (A Colonoscopy being 2 points).
Real Rewards
"Why is it rewarding work? Well, no two colons are the same, and no two patients are. As I've said, science has always interested me - and Endoscopy talks to this. I never stop learning. But most of all, to tell my patient after their procedure that there's nothing to worry about and sending them home relieved is what takes me to work every day. When a patient says, 'thank you - I'm feeling so much better than I did this morning' - it's the best feeling and I never take that for granted."
Of course, not all procedures deliver the news each patient wants to hear - and here Jemima's skills are critically important. She knows how to deal with these situations and how to talk about procedure findings with empathy and assurance. Should cancer be discovered, Jemima will talk the patient through what to expect, discuss referrals, and hopefully reassure them that because the cancer has been diagnosed at an early stage, the prognosis is positive.
TTM Has Her Back
Jemima loves working with TTM, and she has built up an excellent relationship with Claudia who knows the healthcare industry inside and out and is always there to act in Jemima's best interest. Jemima believes TTMs excellence in communication really sets them apart - there is never a time when she feels in the dark about her shifts.
"Claudia is there for me 24/7 - she's totally invested in me and what I want out of my work. We have a great relationship. I also love how TTM is constantly evolving, always getting better at what the company does. The TTM App for example: being able to book my shifts from my phone, with no calls or emails, makes my life SO much easier."
Is This the Path For You?
Jemima's journey from nurse to Nurse Endoscopist is inspiring and the result of hard work. So, would she recommend others to follow her course?
"Yes - if it's something you have an interest in, if you have a genuine hunger to be able to work at this - you should do it. It's a complex field to work in - but if you're prepared to always put safety first, along with the well-being of the client, and you can handle the mental and physical demands of the job - go for it."